Pastel flowers, plenty of pink, touches of gold and winged cherubs always remind me of the beautiful antique Valentines from the Victorian era. I used that for the inspiration for this romantic table setting.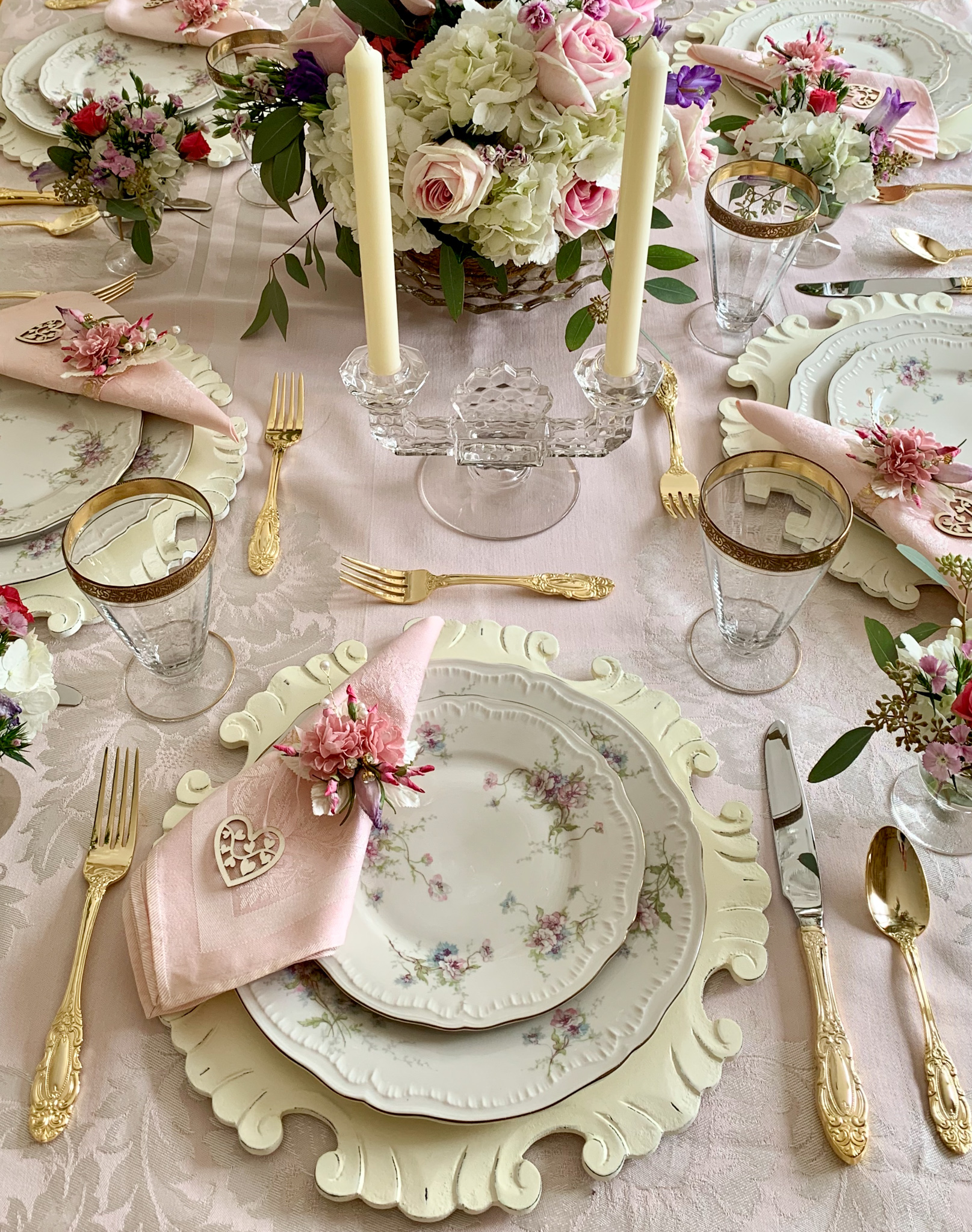 I like to pick an inspiration piece as the starting point to collect all of the elements for the table. This beautiful vintage china in the Annette pattern by Haviland was the perfect place to start. The china is not a family heirloom but rather one of those thrift store finds that I couldn't believe was still sitting on the shelf. I am sure it was a china pattern that a young pre-World War II bride would have received for a wedding gift. I could tell it was carefully cared for as the gold bands on the edges of all of the pieces showed little wear. Maybe it was only used for special occasions or the owner thought it was too special to ever use, but there it was sitting in a box on the floor waiting for someone to cherish the beautiful pattern one more time. There were only 6 place settings, minus three cups, however all of the beautiful serving pieces were also carefully packed in the box. If you love vintage and antique dishes, thrift stores are great places to find great deals. The conveniences that the dishwasher and  microwave provide today, make some people think delicate china is too much work. For me, I never mind hand washing these precious heirlooms. As far as missing pieces, Replacements, Ltd., eBay, or Etsy can be great sources to complete the set. 
Knowing I wanted a romantic look, I had my heart set on using a pink table linens. Almost all of my table linens are vintage but I didn't have a large enough pink table cloth and matching napkins in my stash. I found this beautiful vintage early 1950's damask cloth and six matching napkins on Etsy. The cloth and napkins were never used as the paper tags were still secured to both the cloth and napkins. Each napkin and the edges of the cloth are hemmed with hand stitches, making this cloth a very expensive cloth back in the day it was purchased.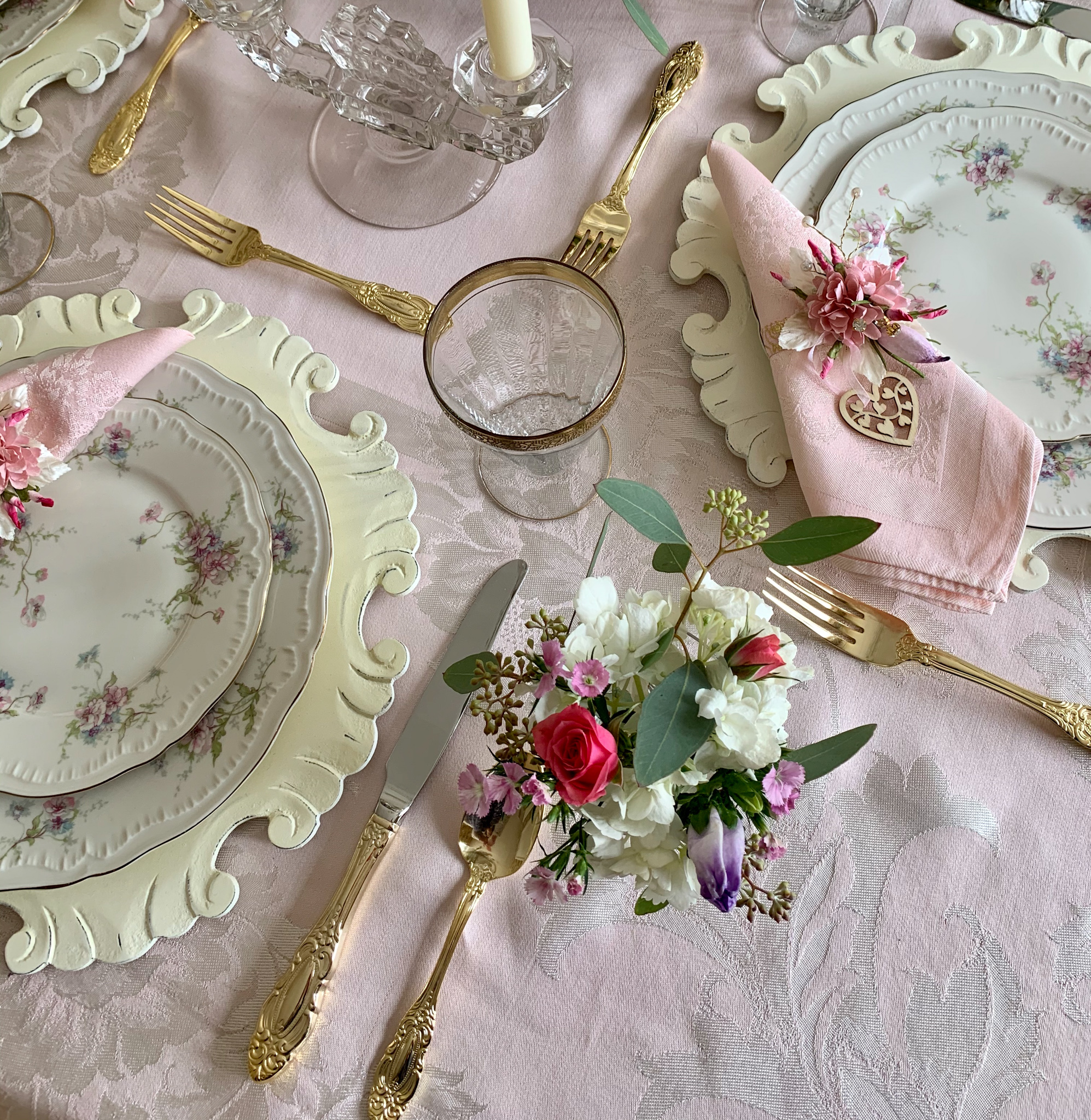 Buying vintage linens is an economical way to create that special one of a kind tablescape. Make sure you measure your table as vintage tables were oftentimes smaller than the harvest tables found in our dining rooms today.  Here is a set that is similar to the one I purchased.
The glassware is vintage as well. I love how the gold floral embossed rim accents the gold bands on the china and the flatware. The glasses are footed ice tea glasses but they work well as water glasses or would look beautiful filled with pink lemonade. If I were serving wine or juice, this particular glass can work with more heavily etched or cut crystal stems because of its simple lines.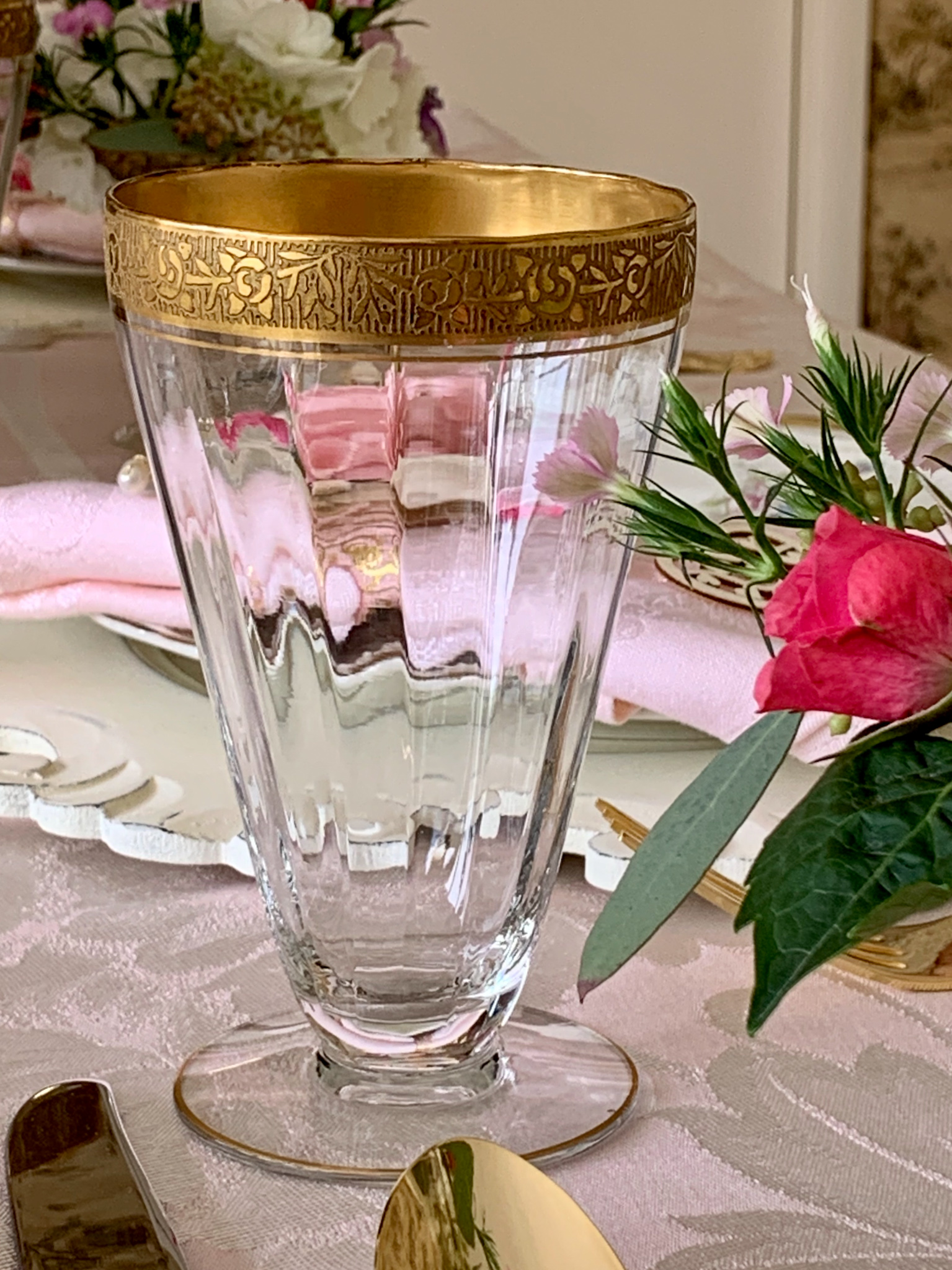 As I was designing the table, I tried silver flatware and although it was passable, it just didn't play right with the rest of the design. Looking at the place-settings I thought gold flatware would be the perfect touch. Since I didn't have any gold flatware to try, I went with my gut and decided to order the Wallace set in the Grand Duchess pattern. I was not disappointed, and as an added benefit I will be able to use it with a variety of dinnerware in my collection.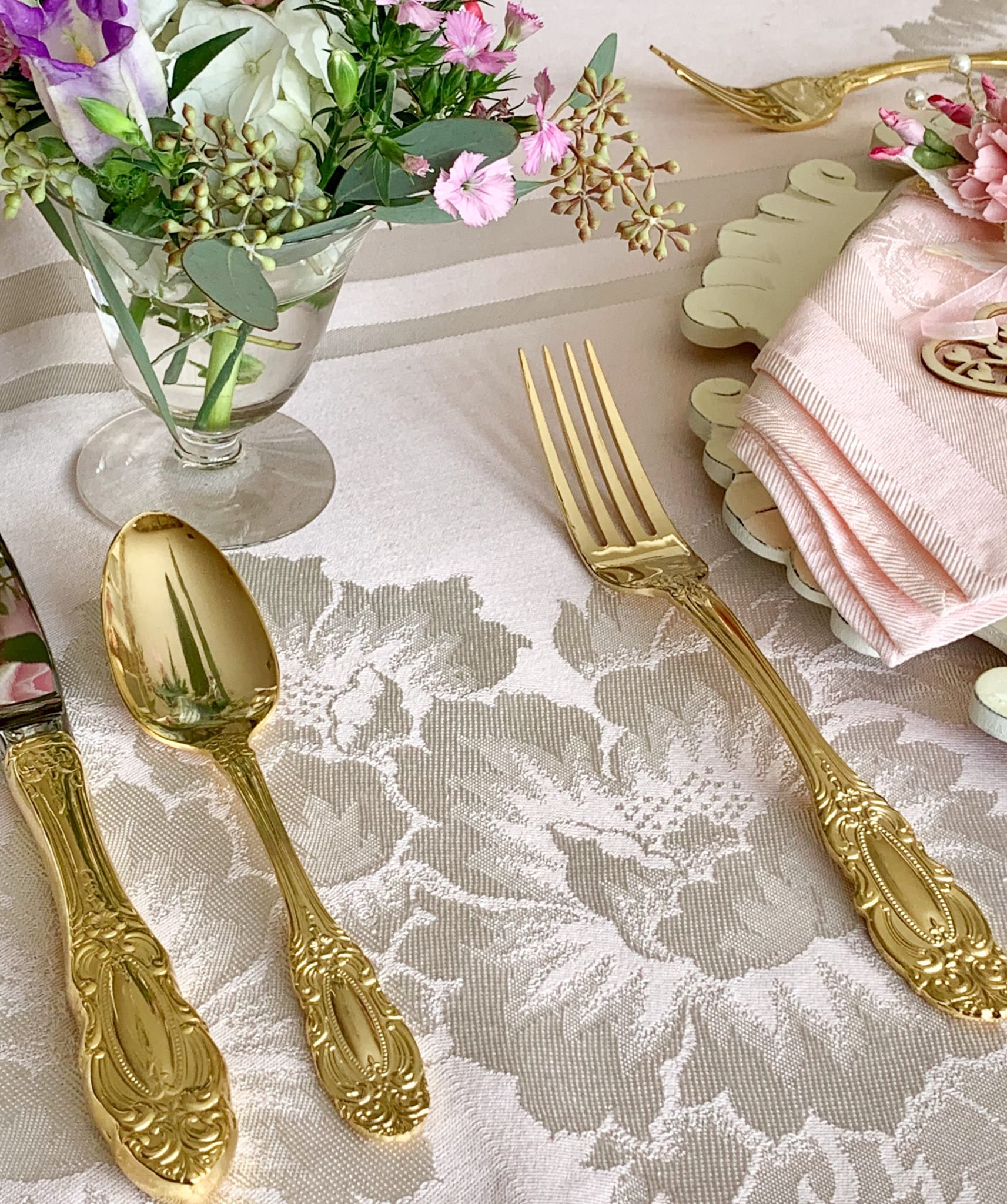 I always like to add something special to each place setting for my guests. In this design, I decided a hand-made napkin ring would work. Making your own napkin rings is an economical way to create a designer look I used a beautiful printed elastic, a large flat button, vintage corsage leaves and flowers, pearls and rhinestones to make little nosegays for each napkin. The flowers, rhinestones and pearls are from the wedding aisle at Hobby Lobby. I tied the little laser cut heart for Valentine's Day, but it is removable, making the napkin rings useful for another occasion such as Mother's Day or a bridal shower.  Check my future blog posts to see how you can make napkin rings with these simple supplies.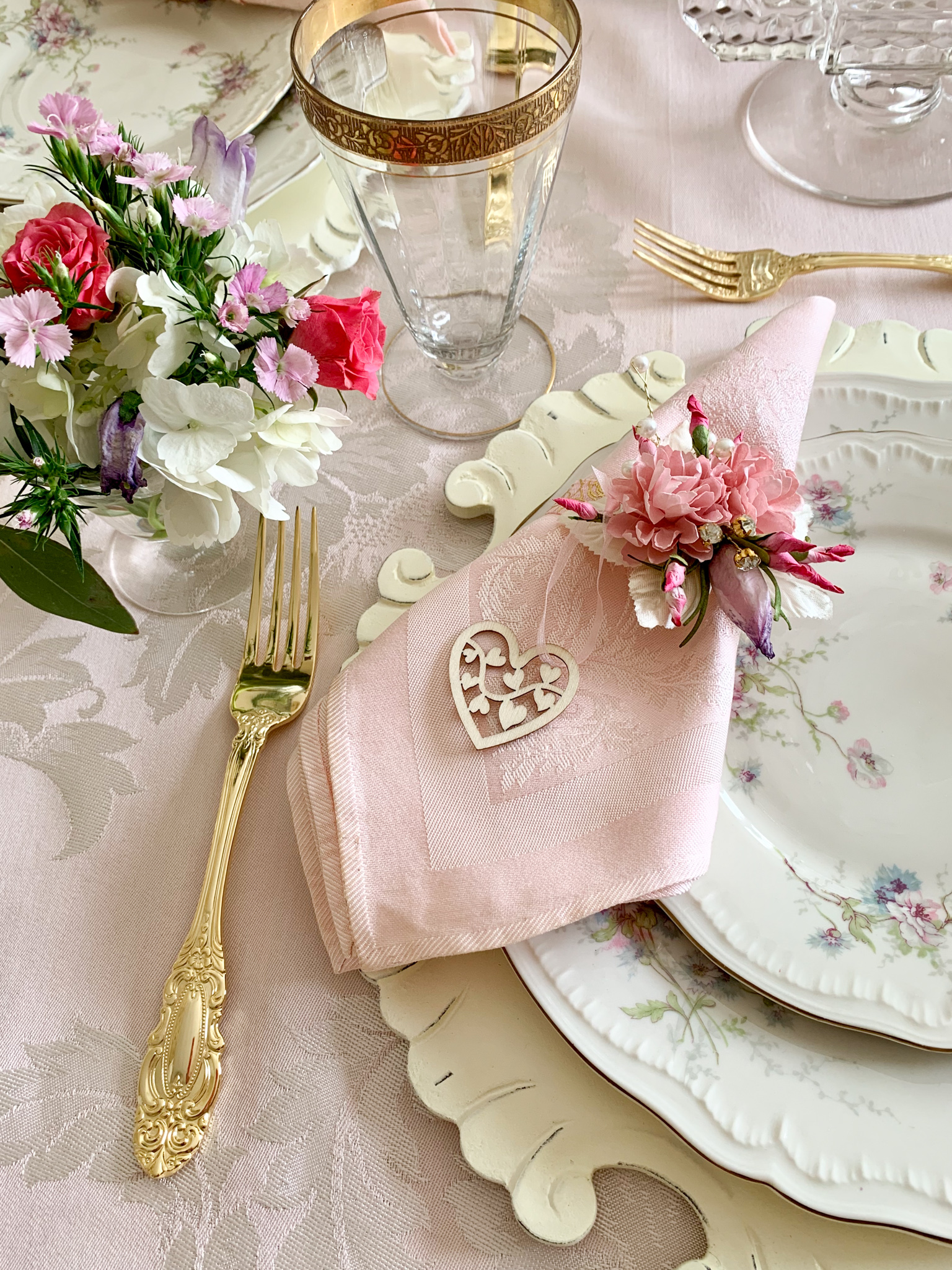 The chargers are white washed wood with a bit of distressing.r I like to find chargers that can be used lots of different dinnerware patterns as they are often expensive and difficult to store. The charger "white" is different from the white in the china but it works because it just adds some depth and a different texture.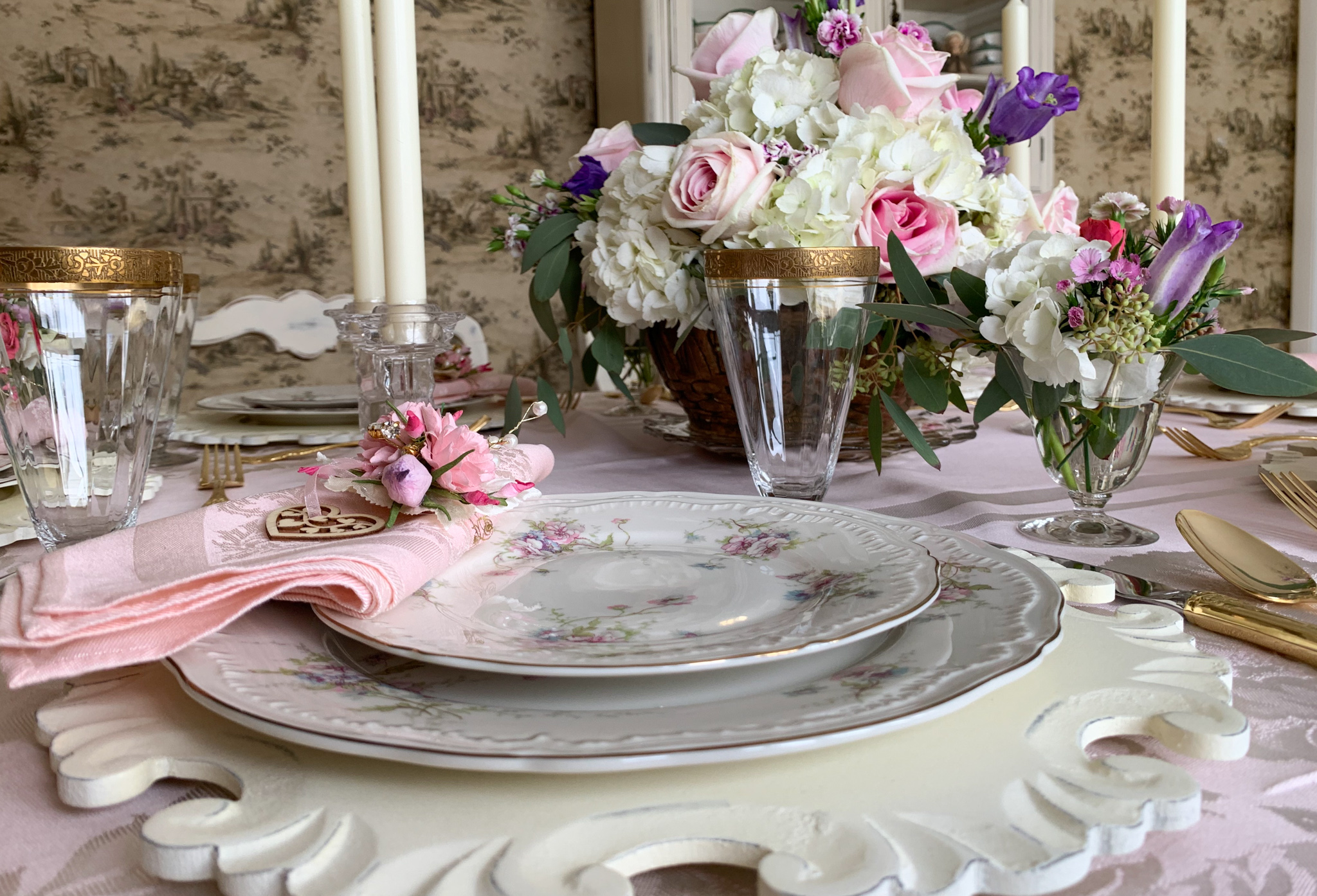 The Fostoria candlesticks in the American pattern are vintage thrift store finds with cream colored candles from Hobby Lobby. This particular "double" candlestick is quite versatile as it can be positioned the way I have it for this table or by simply rotating it you can obtain a more linear look. Used in the linear way, it would be possible to vary the height of the candles. The Fostoria American pattern was a very popular depression glass pattern and there are lots of different pieces available are great prices.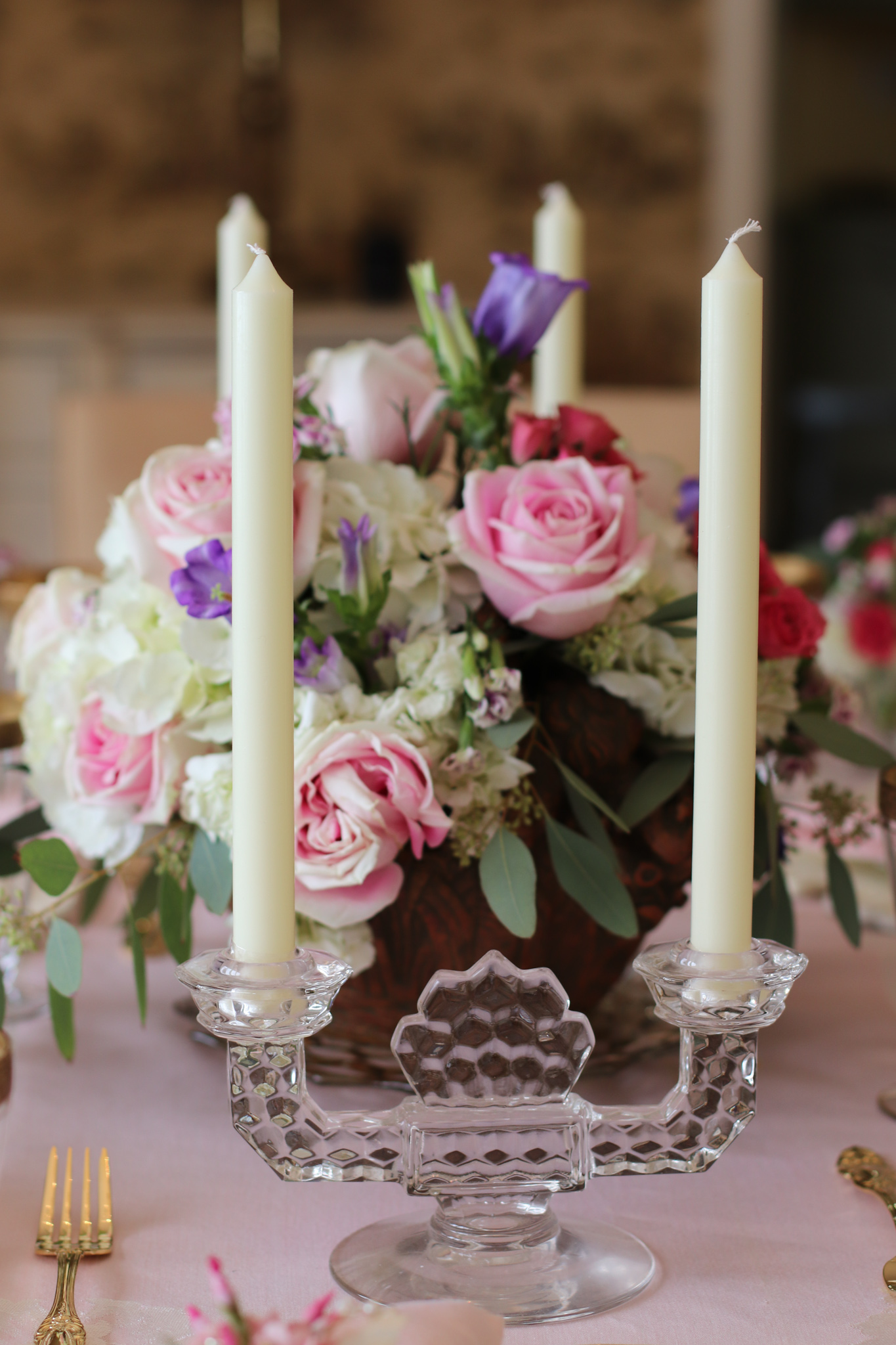 The fresh flower centerpiece and little individual nosegays pull the entire table together. My friend Diana from Diana Dreger Designs picked up the flowers from Trader Joe's and skillfully arranged them in a plaster garden basket made with cherubs holding the handle. She selected white hydrangea, pale pink roses, deep pink spray roses, purple Canterbury bells, and two different varieties of dianthus to pair with the colors in the china. A few sprigs of seeded eucalyptus grace the edges of the basket creating a foundation for the flowers. Using the little cuttings left over from trimming the stems, she was able to create the mini bouquets that she arranged in vintage sherbet glasses. In my table designs, I like to play with textures and the heaviness and color of the plaster basket worked so well with the more fragile delicate elements in this design. Just an FYI if you decide to use a container whose original purpose was not to hold fresh flowers or liquids, check if it is water-tight. If it isn't use a plastic liner in the inside to prevent a mess later on. I discovered that this container leaked, but was still able to use it by sitting the finished arrangement on a glass plate. Lesson learned, next time I will check first!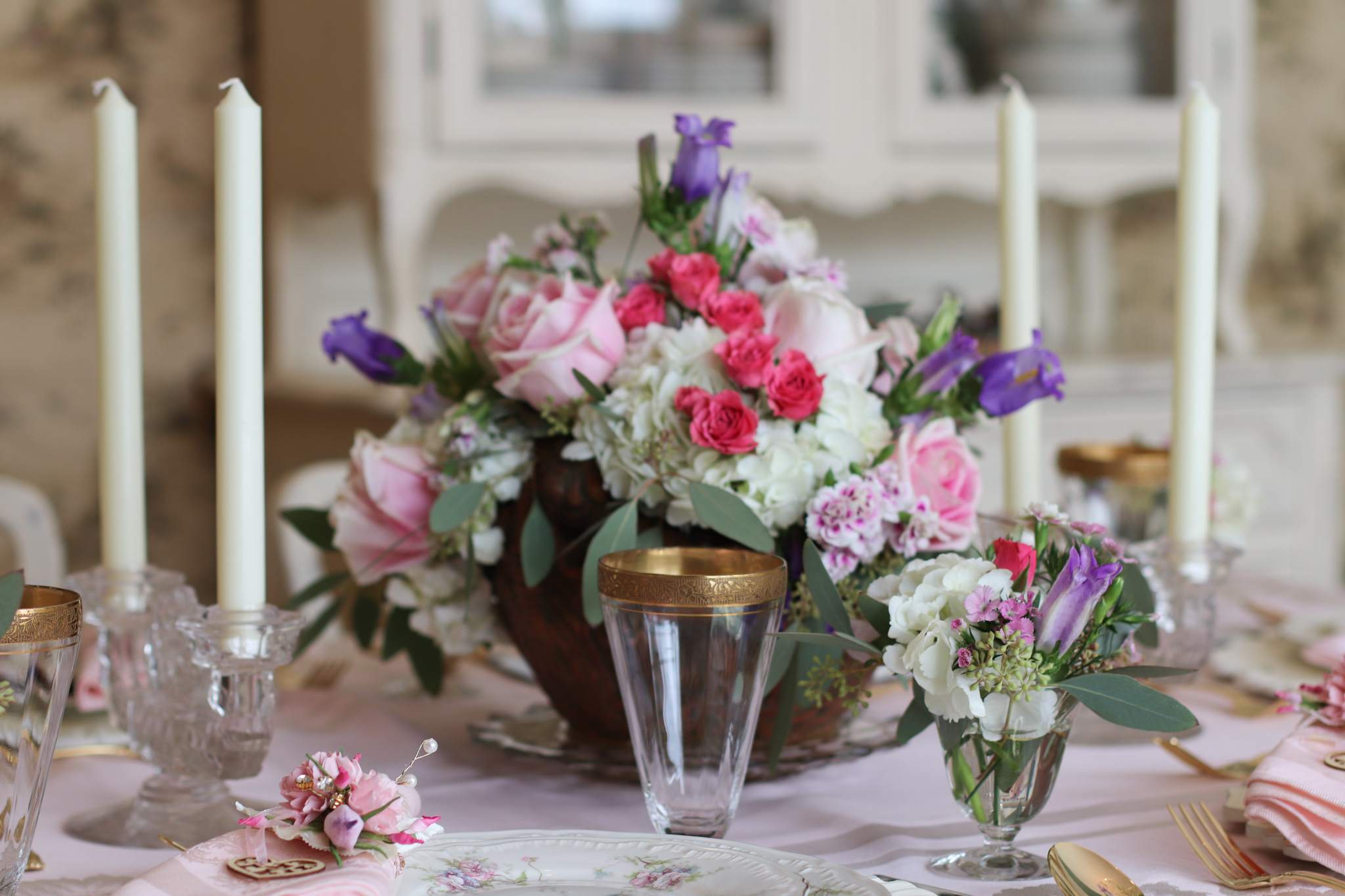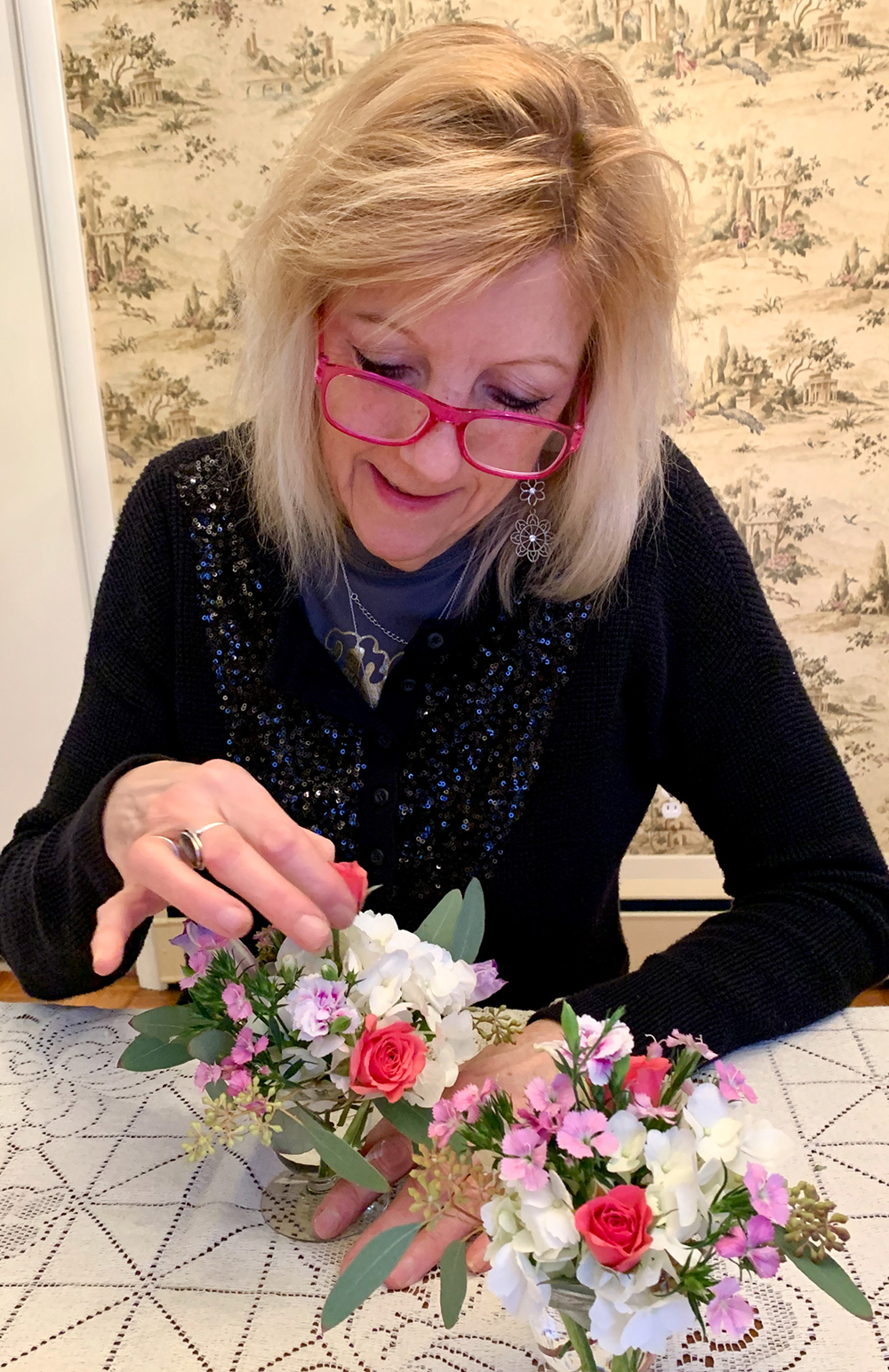 Now all that is left is to light the candles, pour the lemonade and have my girlfriends join me for the perfect Galentine's Day Brunch!