My Story …
Decades ago, a young girl scoured the house collecting objects and materials she could use to create something like the wonderful things she read, heard or dreamed about.  She wasn't afraid to try new things … learning to embroider the crudely drawn rabbit she sketched on a rag … falling in love with wallpaper when she decided she needed a Barbie dollhouse and had to make it herself because the commercial ones were just too expensive … watching the next-door neighbor lady knit and using her $5.00 birthday money to purchase a pair of knitting needles and a skein of most beautiful pink angora yarn to make herself a winter hat … collecting garden blooms to create the centerpiece for the Sunday dinner table she had carefully set with her mother's china and silver-plate … making a stylish pink and white gingham sleeveless shift with a green rick-rack stem and white eyelet rose when she was 10 years old … taking notes on everything Jackie Kennedy did restoring the Whitehouse and thinking that someday that young girl would do exactly that to the home she would one day call her own.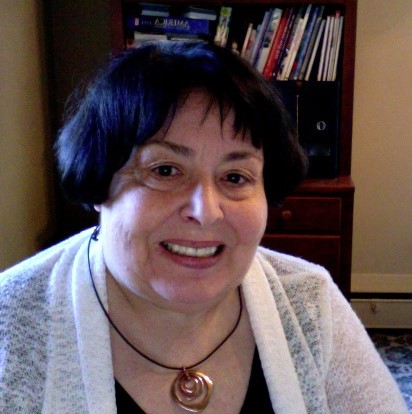 That girl would be me. Being the oldest of nine children and growing up in a small town it became a necessity to be creative in order to build the world and experiences I read about on those late nights sitting on the upstairs steps with my flashlight so as not to disturb the younger kids who were sleeping in the upstairs bedrooms. Back then, I thought my world was lacking but it was the perfect place to sow the seeds of a creative, resourceful mind and foster a can do attitude. Having a childhood without all of the catalog toys taught me I could make all of the interesting things that Captain Kangaroo created with his commercial box with found scraps and even though they weren't exactly the same my "art" was unique and personal. Who knew I was practicing up-cycling and DIY and someday that would be a thing on social media.
Fast forward some years and I was off to college with my brand new typewriter and portable sewing machine pursing a degree in Biology to prepare for a career as a high school science teacher. Who takes a sewing machine to college? Being a high school teacher gave me the opportunity to use my creativity in many ways such as planning and preparing a gourmet International dinner for 150 people as a fundraiser for an International Club I was in charge of or making costumes and collecting set pieces for the school musical productions. During these early days of teaching cash was always limited so I began to furnish my apartment with antiques I bought at local auctions, refinishing them to make them fresh and new. I fell in love with the history of antique things and the craftsmanship that was involved in making beautiful things. These timeworn objects were such a contrast to the clean straight lines that were popular in decor at that time.
My husband and I purchased a beautiful home with endless possibilities, designed for entertaining when we got married 30 years ago. My passion for unique, curated, style continued as I refurbished and decorated our family home with found objects. DIY projects always gave me the unique, budget friendly look in the books I read on the steps years ago. The multitude of rooms provided the opportunity for me to have many uniquely designed Christmas trees just like Jackie Kennedy had shown when she introduced White House Christmas decorations to the public back in the early sixties. A spacious dining room with a fabulous crystal chandelier became the perfect backdrop for all of the parties I hosted for kids birthdays, family events, co-workers and school fundraisers. All of these wonderful memories planted the seeds for the birth of "Trout Lily Hill".
Blogging about life on Trout Lily Hill will allow me the opportunity share all of my tips and ideas for creating great family memories in the place you call home. Welcome to Trout Lily Hill.