One of my favorite holiday gatherings is Thanksgiving.  This holiday is all about savoring traditional family favorites while leisurely enjoying conversation with all of the people that hold a special place in my heart. Growing up in a large family meant that my grandparents came to our house and for years, my mom was in charge of the feast. Despite the fact that I spent many hours helping with the daily cooking and baking routines that were necessary to feed eleven people, my mom was the mastermind of all Thanksgiving recipes and never seemed to share the secret amount of "handfuls" and "pinches" that went into those family favorites. I can remember thinking as a young adult that Thanksgiving was one party I would never be hosting.  All of that changed when I started dating my future husband. Wanting to impress him with having all those skills that make for a "good wife", I invited him for a Thanksgiving dinner, on the Wednesday before the holiday because he was going to be deer hunting.on Thursday.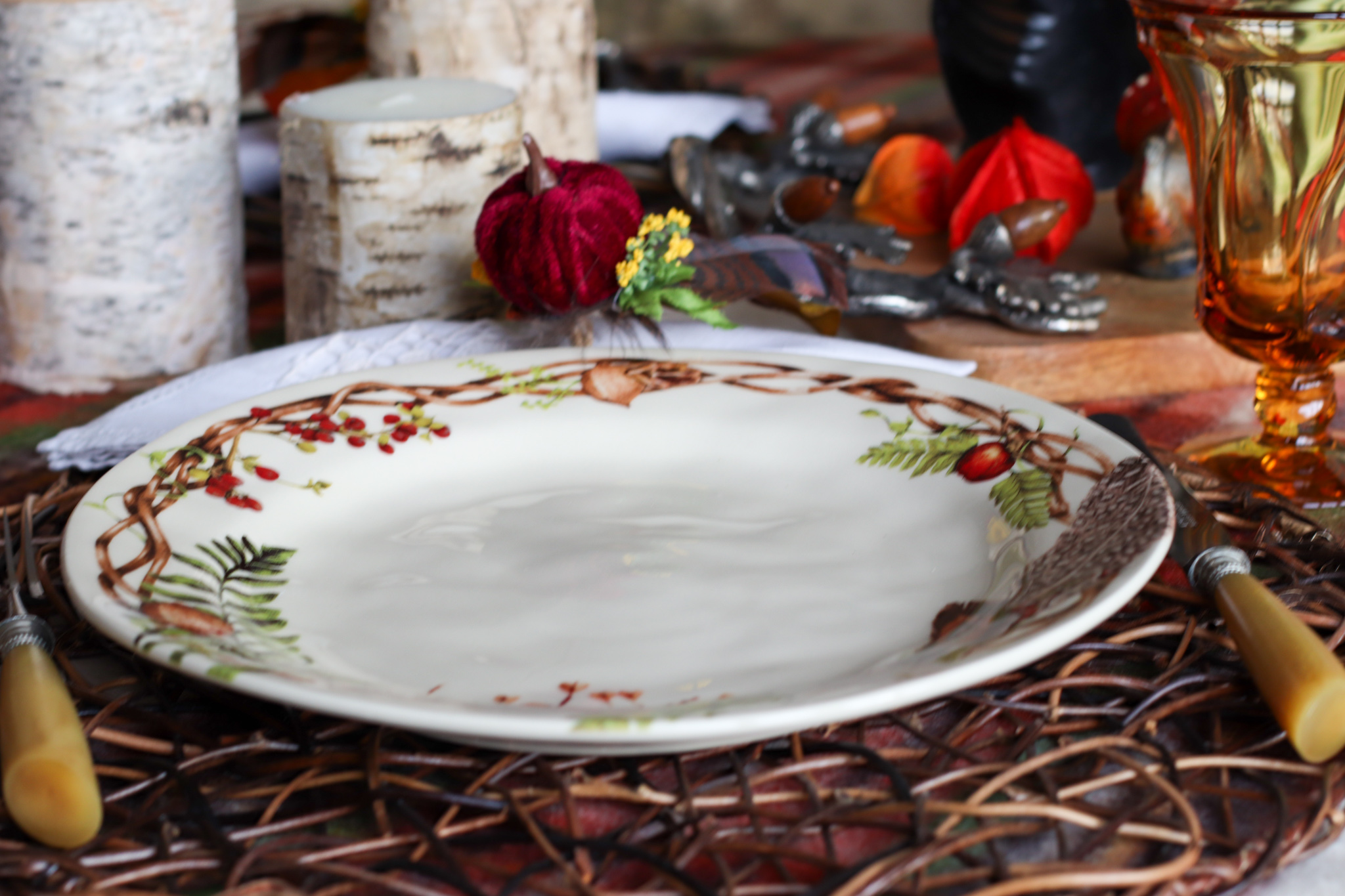 What was I thinking? I had never touched a Thanksgiving ingredient, hadn't collected a recipe file on traditional favorites and now I challenged myself to create the entire feast.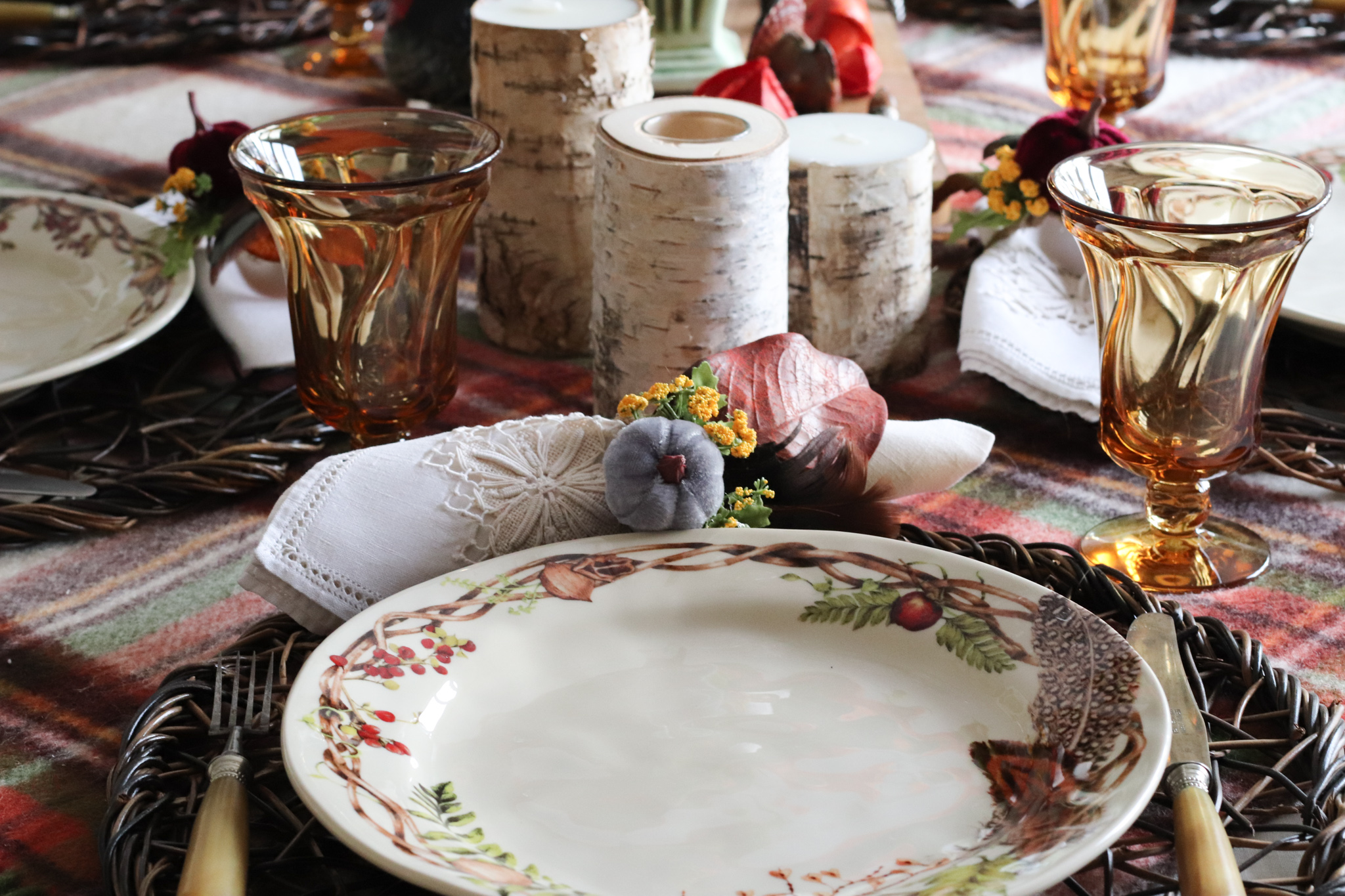 Needless to say, I read and reread my Betty Crocker Cookbook and telephone conferenced with my mom throughout the preparation time. How does one make giblet gravy and stuffing without a recipe? Somehow, I managed to pull it off, on my own, with only telephone help I prepared everything including: roast turkey, stuffing, mashed potatoes, giblet gravy, two kinds of cranberry sauce, sweet potatoes and my first apple and pumpkin pies. I guess that meal ticked off the "wife that can cook" box, because my husband asked me to marry him at Christmas.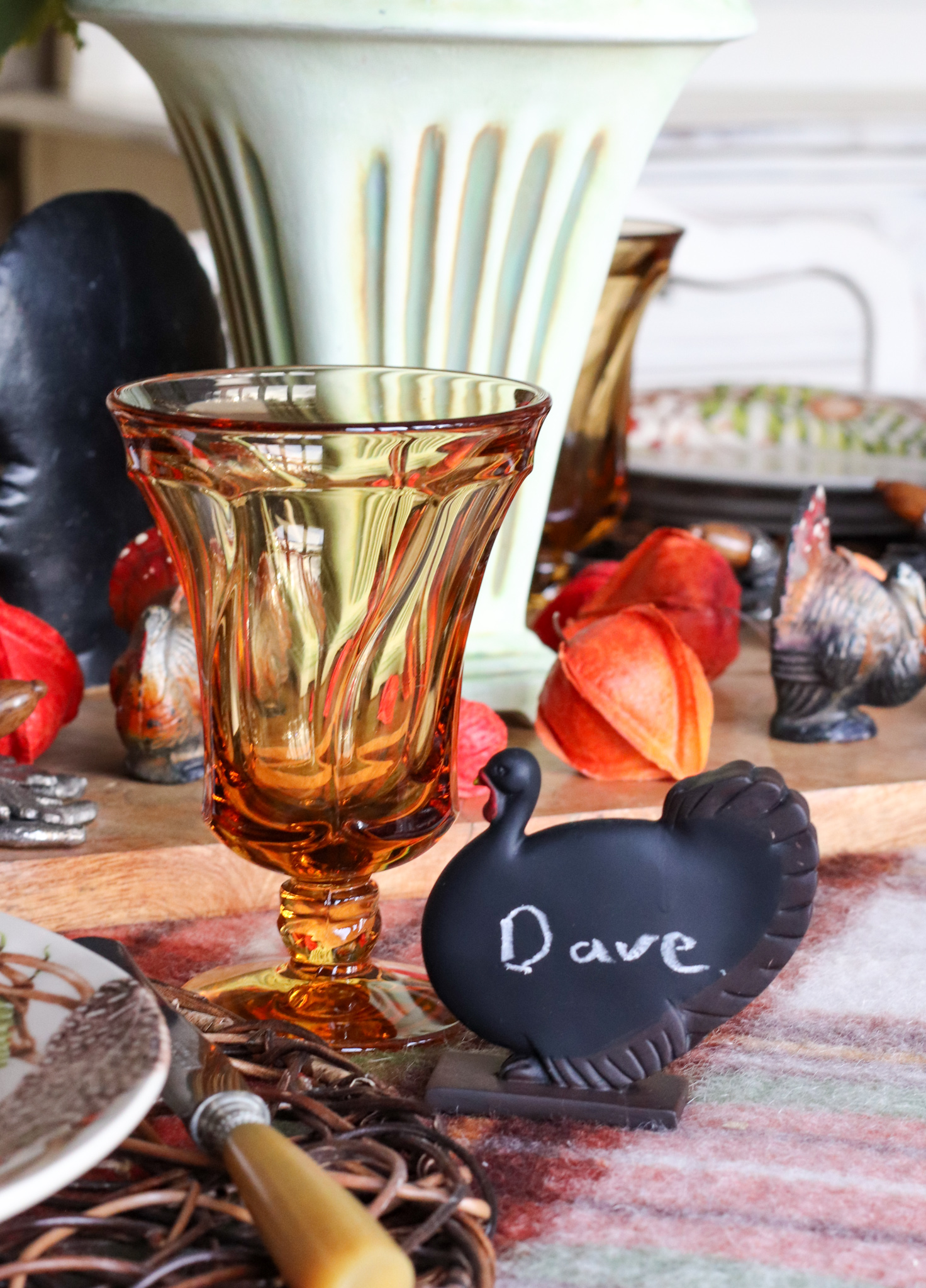 Dave and I purchased Trout Lily Hill before we were married the following August and since that time I have cooked and hosted this great feast of gratitude. Surprisingly I have learned the shopping list by heart and the only thing I use a recipe for now is my stuffing. I am certain my daughter probably feels the same way I did all those years ago as I have now become the mastermind of the feast. This year I will invite her to share the kitchen and learn my Thanksgiving tricks and secrets.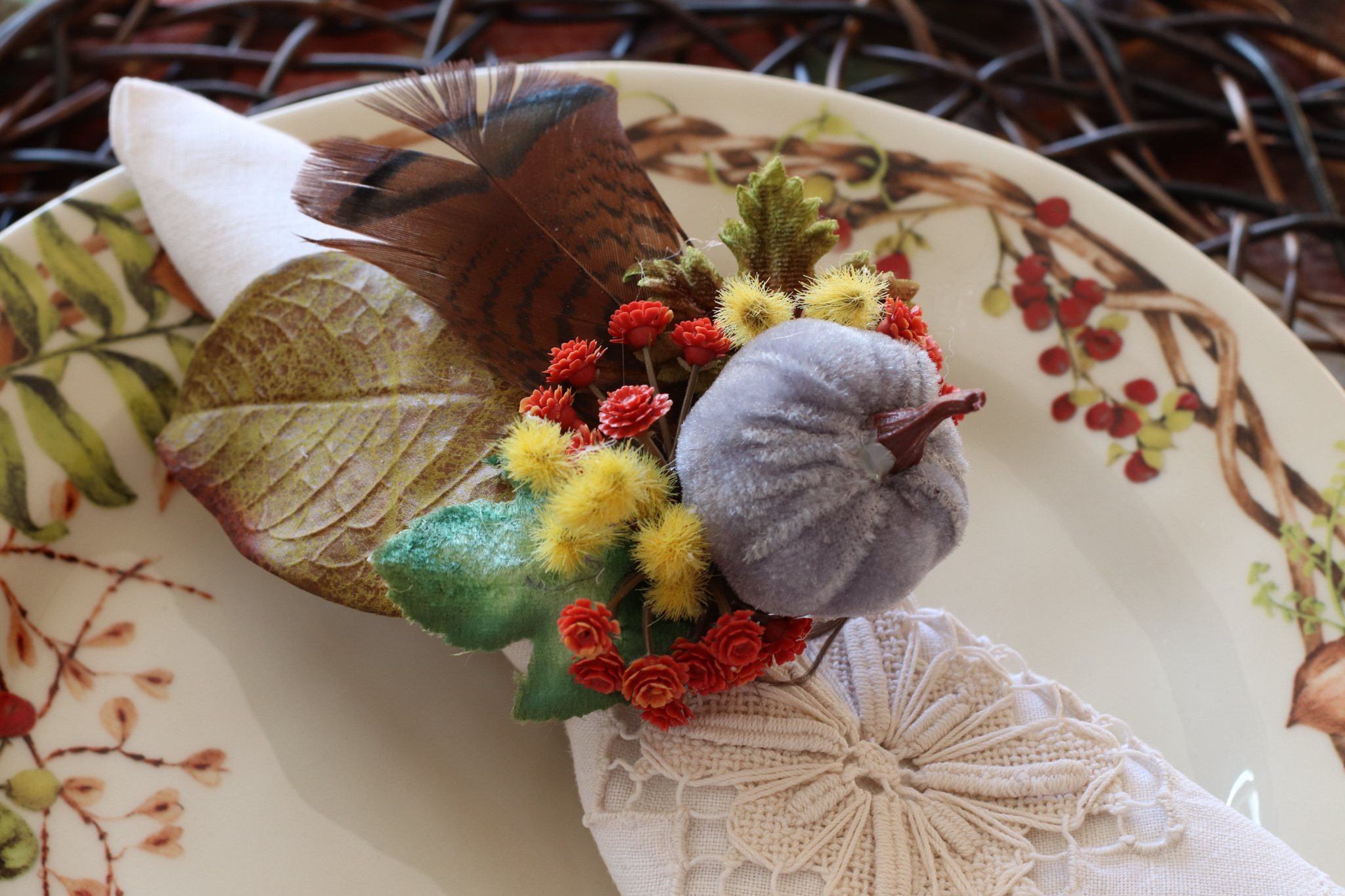 In preparation for this year's feast, I thought I would play with the Tablescape. I replaced my usual "wedding china" with the "Forest Walk" pattern by Juliska. All of the natural elements featured on the dinnerware are items that I find on walks through the woods on Trout Lily Hill, so this is the perfect pattern for my home.  On a summer antique outing I netted the perfect gold Fostoria stemware in the Jamestown pattern and the World War I era flatware with caramel colored Bakelite handles. Mixing in vintage items in a tablescape always creates visual interest and makes a table one of a kind.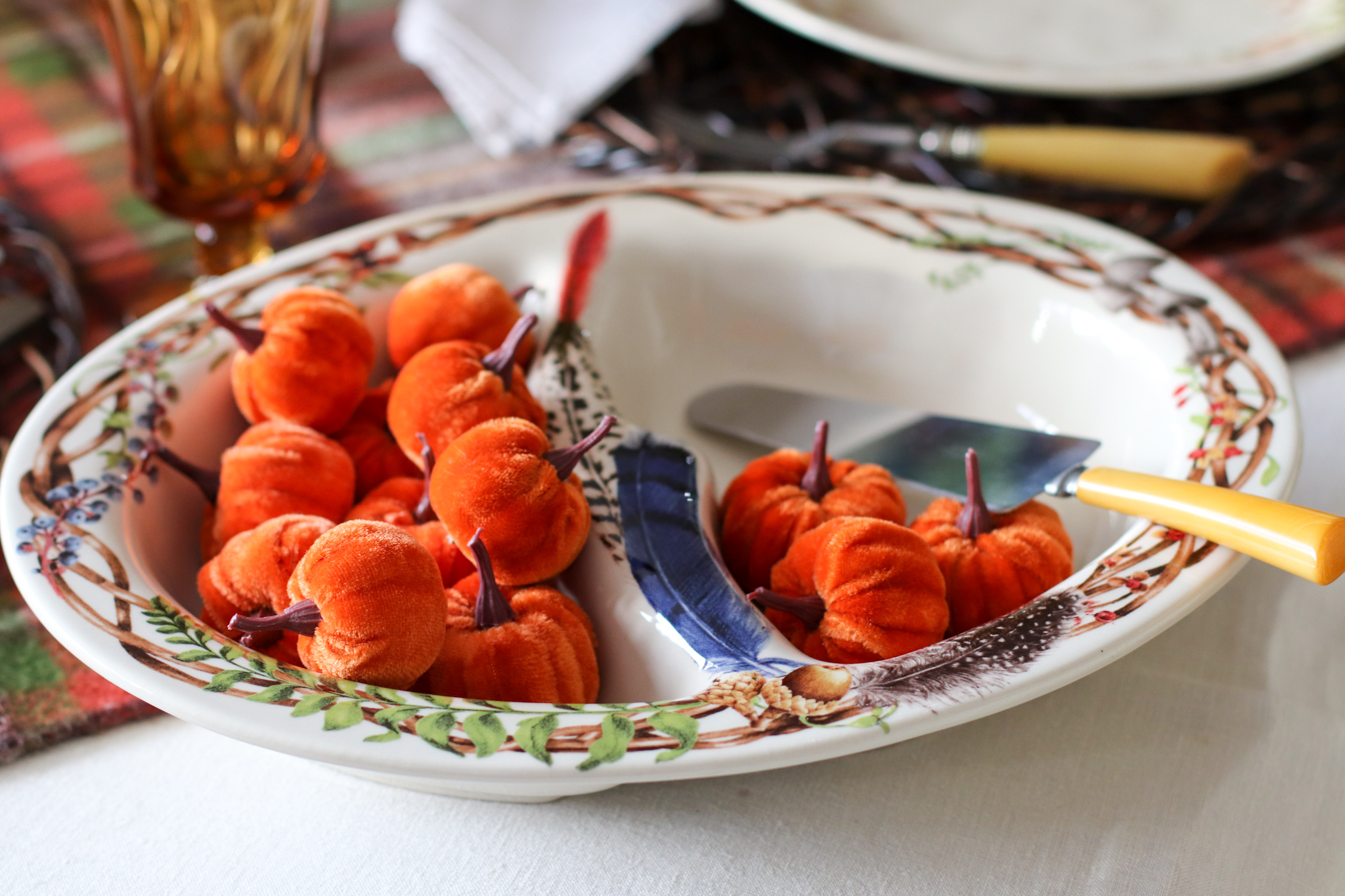 I layered the dinner plate on a grapevine placemat for a nod to the naturalness of the dinnerware. Mixing textures is a trademark of my personal party decor, as seen by the use of the wool plaid blanket on top of a hand embroidered, vintage, linen tablecloth. The linen napkins and velvet pumpkins on the napkin rings again repeat the juxtaposition of elegance and casual that can be found on the table at many of my parties. I created the napkin rings using wired jute roping, faux leaves and flowers along with a little velvet pumpkin and yes a real turkey feather. Grocery store roses, sunflowers and goldenrod in a pottery vase create a focal point at the center of the table. To complete the look I added a few vintage Gurley turkey candles and sprinkled some Chinese lantern pods among a few birch bark pillar candles to create the perfect table to savor both food, conversation and fond family memories!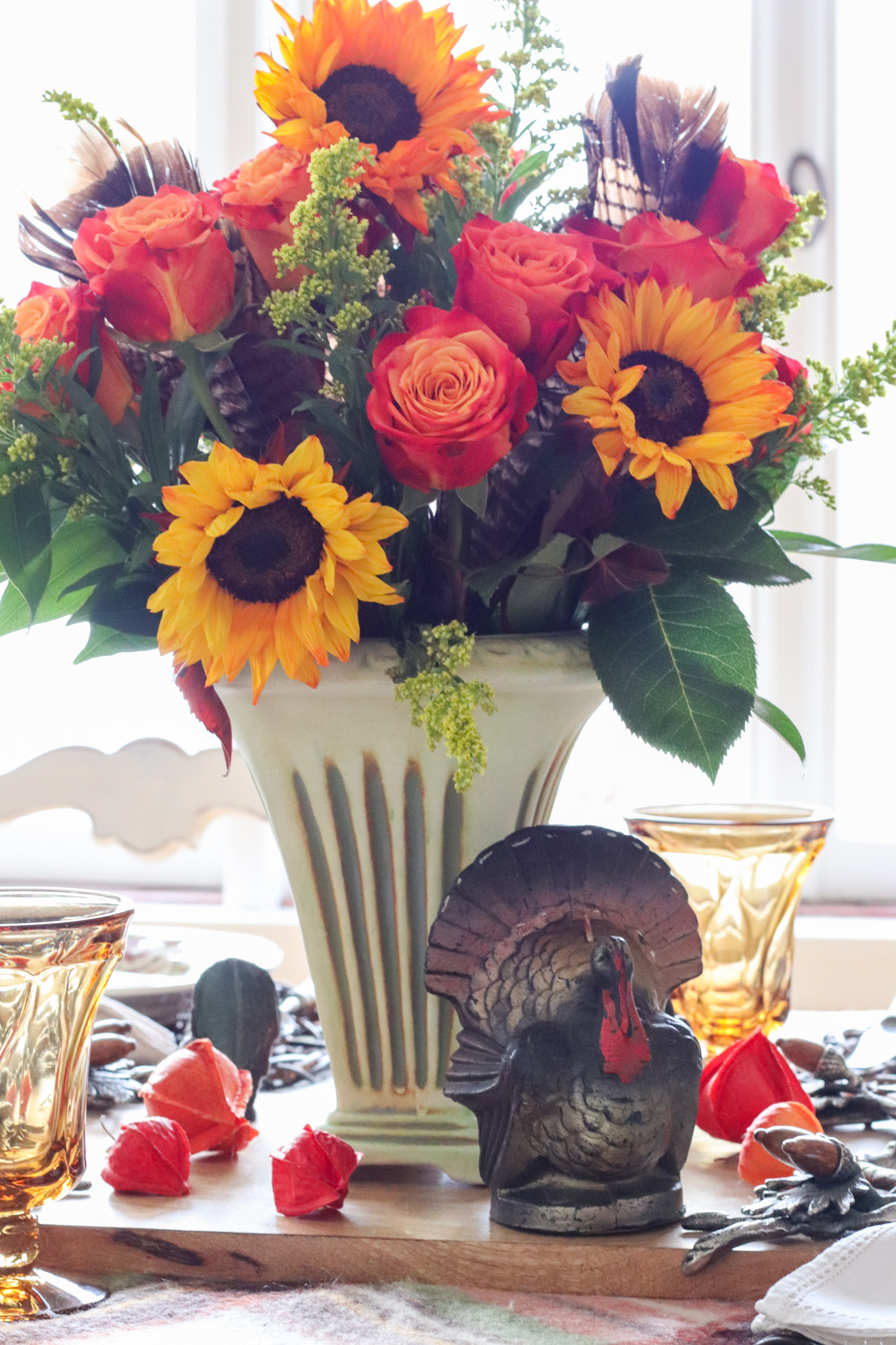 Do you use special dinnerware on your Thanksgiving table? I would love to hear what patterns you use.