Have you ever bought materials for a project but somehow didn't start the project or it wasn't the right season for the project you had in mind? I did that about six years ago when I purchased some antique grain sack scraps from an upholstery project that Marian at Miss Mustard Seed had just completed. I had intended to sew tiny little sacks to use on an old store display rack that once held bags of chips for an Advent Calendar. Christmas came and went, kids completed college and the bag of scraps sat in a desk drawer. Occasionally I would take out the scraps and tell myself I should dream up a new project. This past April, I had the perfect idea for the scraps. I am in the TCe Mentoring Group that Marian and Shaunna West host and during the "stay at home time" Marian thought we could all use a bit of cheering up by exchanging "Happy Mail". Instantly, I knew what I would do with those cherished scraps. Marian is in the process of decorating her sewing room and I wanted to create something that she would be able to use in that room. Knowing that Marian loves antique items I wanted to create a piece that had a story. Utilizing my interests in vintage textiles, antique sewing notions along with my passion for needle art, I decided to create an originally designed needle keeper. My goal was to make a reproduction of an antique sewing notion known as a "hussif". What is a hussif, you ask?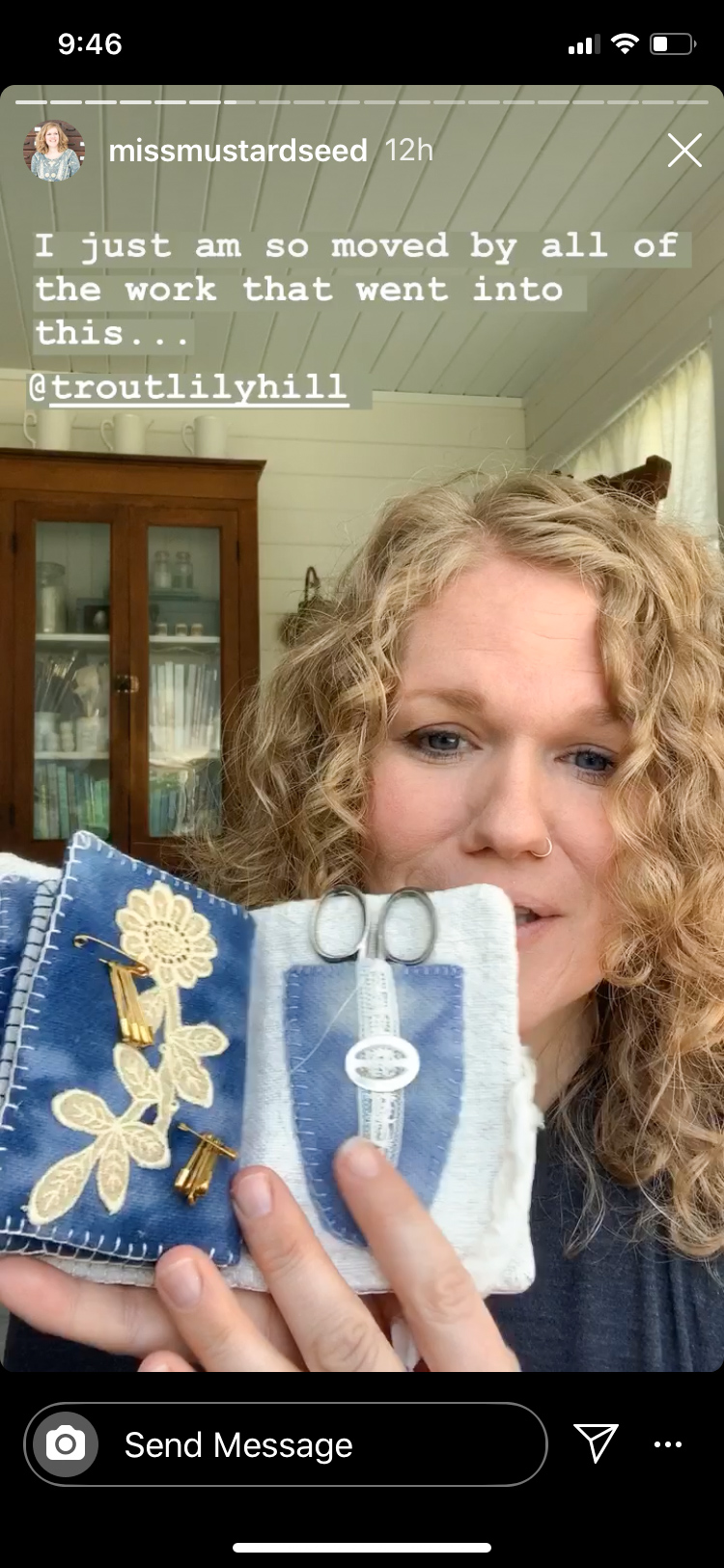 Historically sewing notions were prized possessions and needed to be stored so that women and men would be able to transport them from place to place. Women fashioned pieces of silk, muslin and wool into a sewing notion known as a "hussif" or "housewife".  Different English dialects determined which pronunciation was used.  Fabric and sometimes pieces of leather were sewn into a long, narrow, lined strip with ribbon or fabric ties. The interior side had small pockets to hold thread, floss, thimbles, buttons and small wool pieces that sewing and embroidery needles could easily be pinned through. This long strip could then be rolled up and tied with the ribbon and slipped into a pocket, basket or purse. Hussif's were popular as items in soldiers knapsacks. During war times soldiers didn't have a wife or mother to sew buttons or mend tears in their uniforms so this sewing notion was a necessity.  As men prepared to leave for war, women would construct more utilitarian hussif's out of twill, wool and cotton, often embroidering a heart or name in the interior.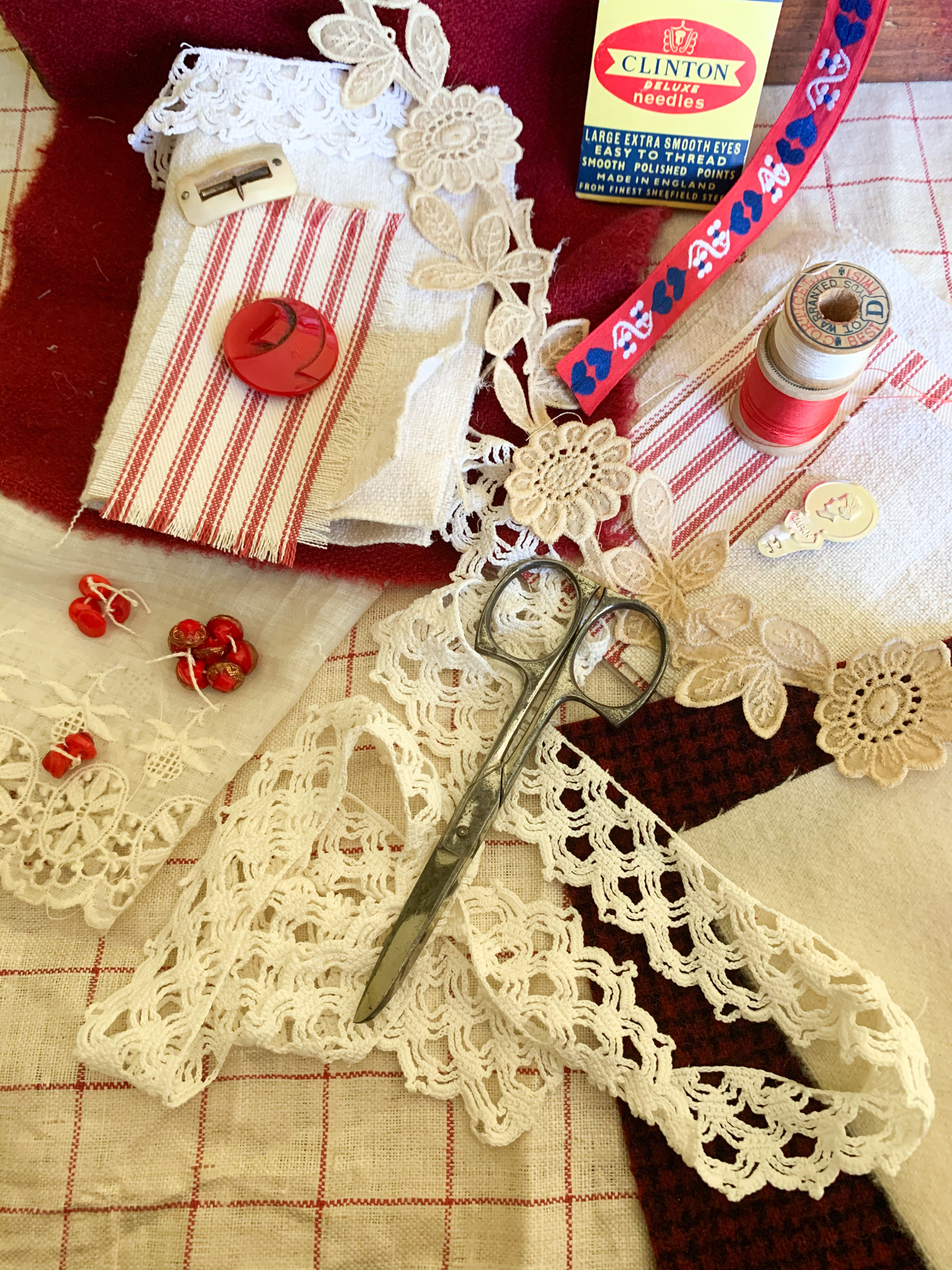 As I stretched out the grain sack scraps, none of the pieces were long enough to cut a strip of fabric to create a hussif as it was historically designed. In the 1930's and 40's women made simple needle books with a fabric cover and a folded piece of felt to hold needles. I decided I would combine the two ideas into one new design, that would provide storage for thread, floss, buttons, scissors and a variety of needles and pins. To keep the antique vibe, I used vintage and antique trims and a piece of wool I recycled from an old pleated skirt. Carefully I created each page, using the grain sack or wool as a blank canvas to which I added bits of embroidery and trim in a way that would be artistic and purposeful. Most of the sewing was done by hand. the only machine sewing I used was when I sewed each of the larger rectangles together. I knew when it was complete it would be the perfect gift. Unfortunately I didn't take any pictures because I was so excited to get it mailed to Marian.
Little did I know that when she shared her "happy mail" on Instagram it was going to generate such interest. I quickly cut and designed another one to use for a give-away for my Instagram followers. Because of using vintage materials, any needle keeper I create is an original. The one I created for the give-away is similar to Marian's but it is unique because I used a few different trims and embellishments. Here is how each page turned out.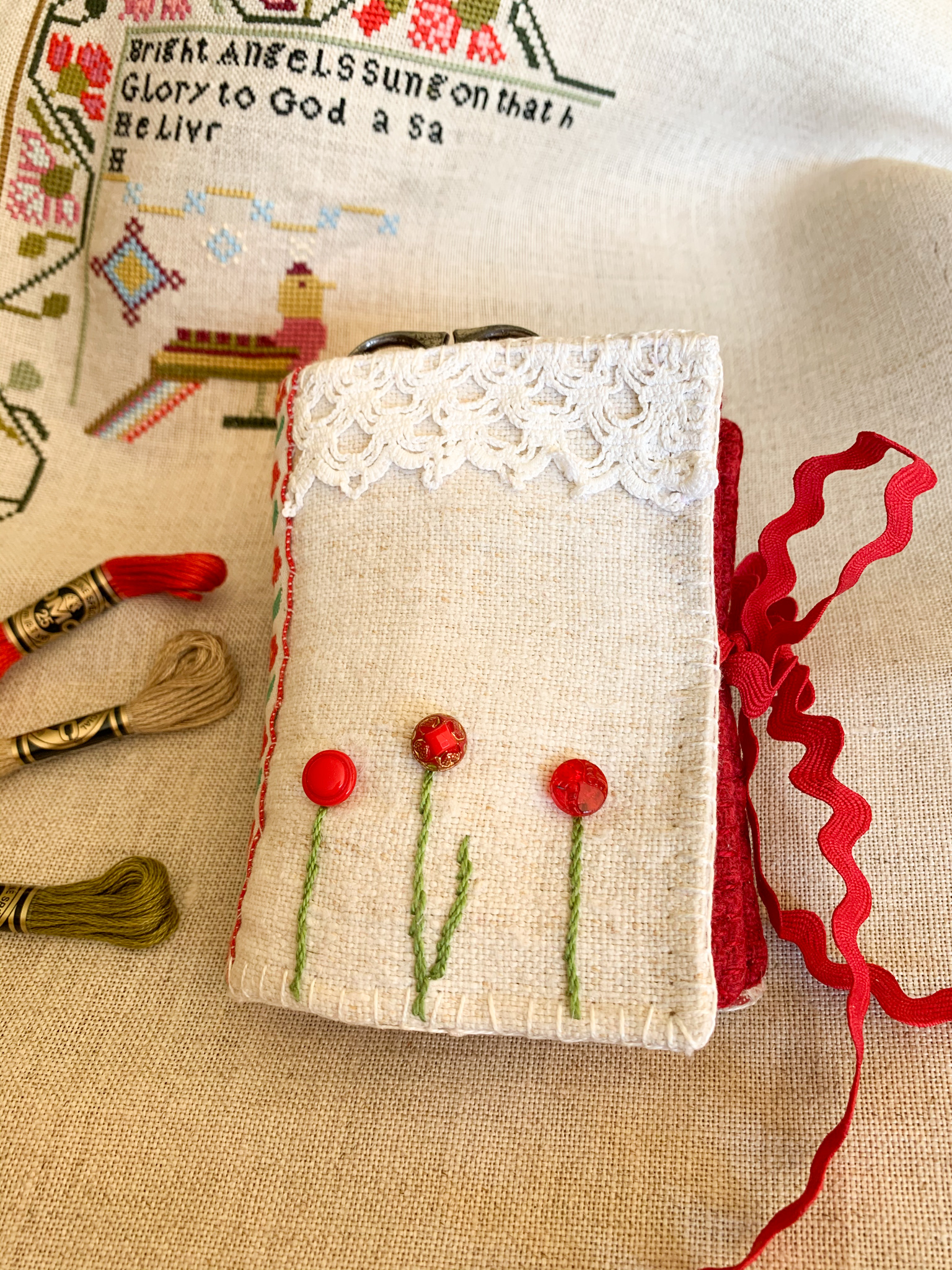 I used vintage rick rack for the ribbon closure and created little flowers with embroidered stems and vintage glass Czech buttons. This book has a spine I created using a cheery, flowered, jacquard ribbon. When each page is complete, it is edged with a blanket stitch.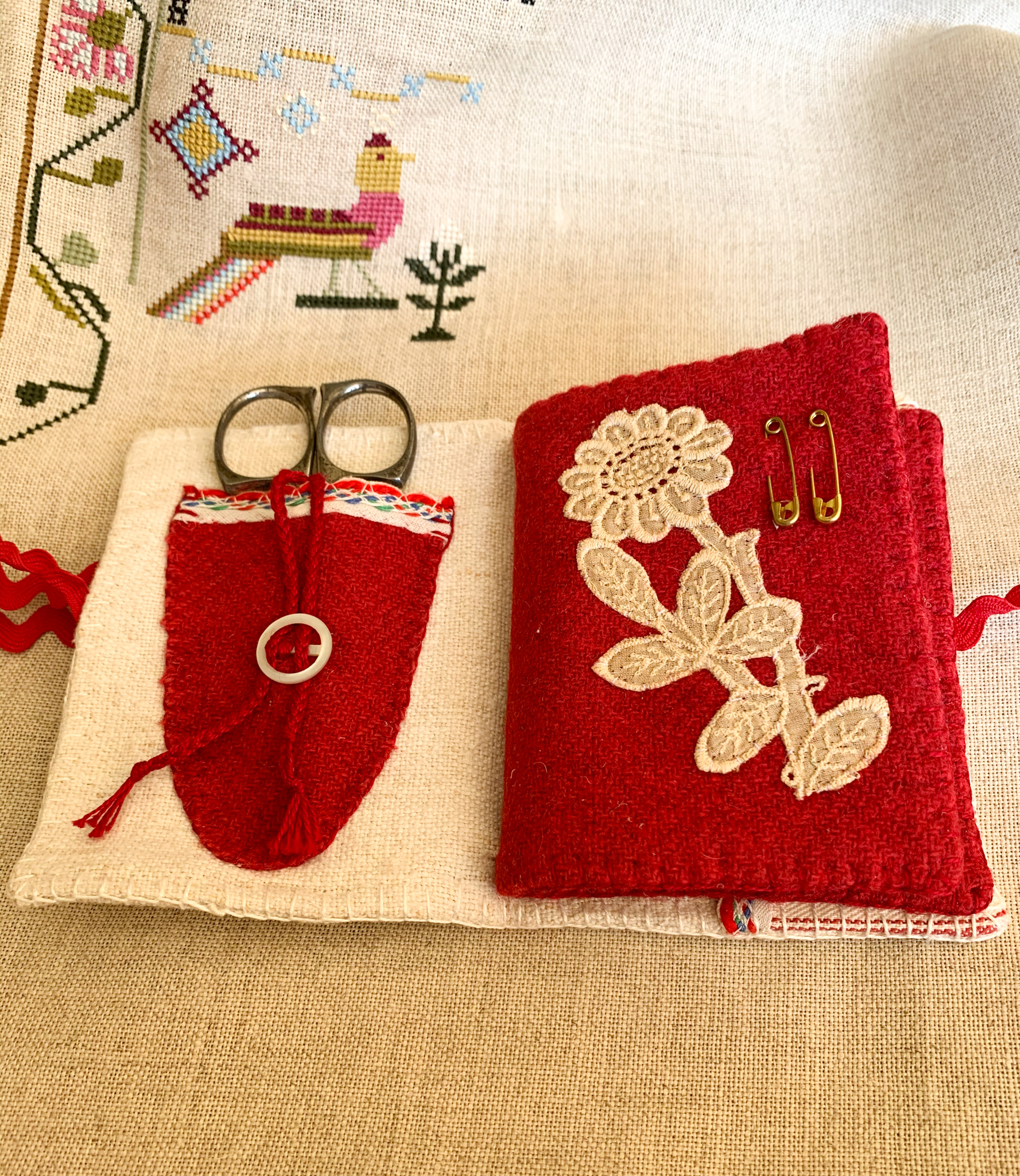 I created a pocket for an embroidery scissors and used a tiny mother of pearl buckle to hold the ties I created by braiding pearl cotton. The trim on the top is one that would have edged the collar of a blouse. The lace appliqué on the right is a small piece of a vintage trim that was sold by the yard. It was carefully stitched to a piece of gauze to display in the mercantile.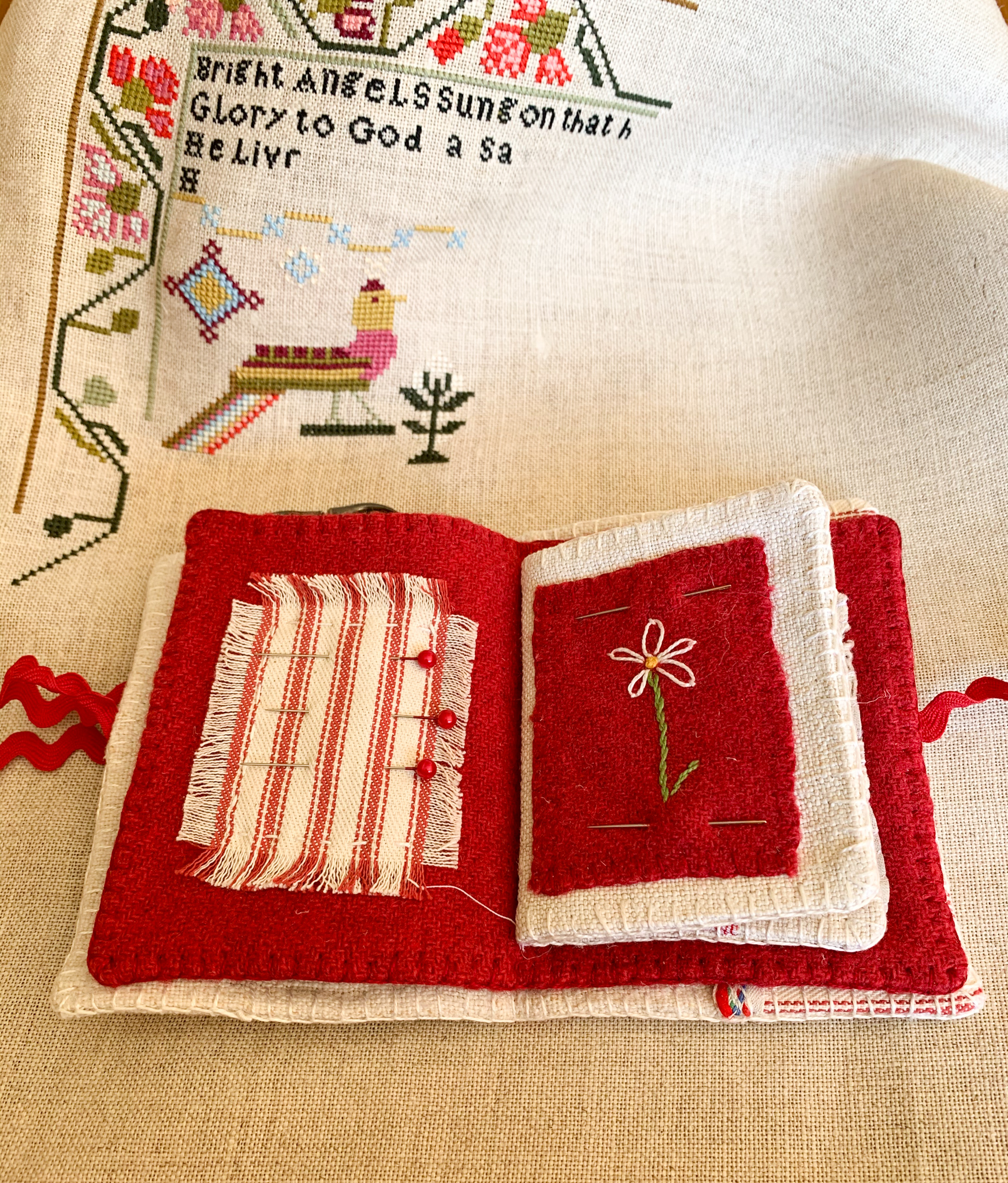 A simple piece of pillow ticking, fringed and hand stitched to the wool is the perfect place to secure some pins. The wool patch with the hand-embroidered flower is perfect for fine sewing needles.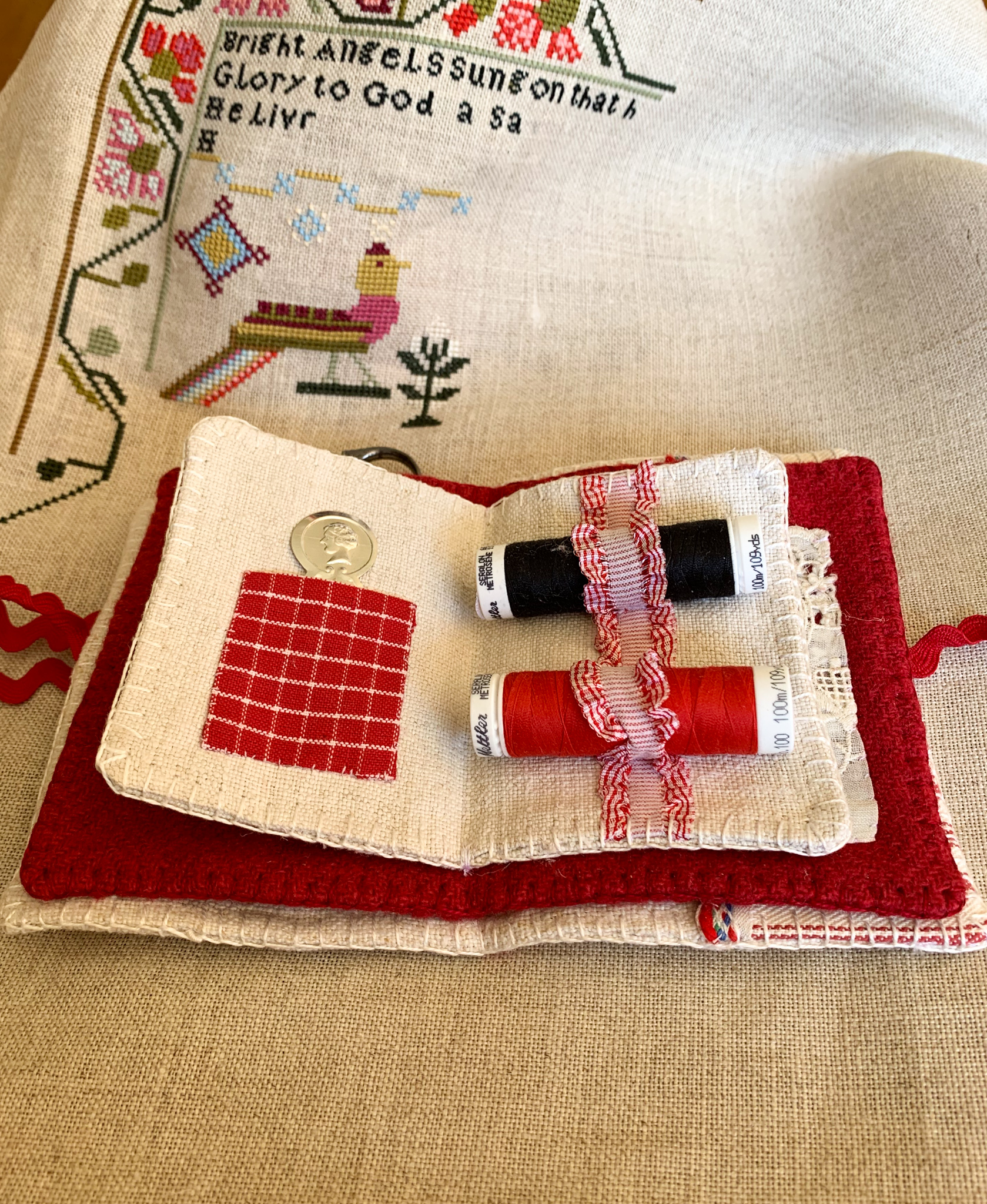 As I was going through my stash of vintage trims I found this piece of elastic with the gingham edge. I attached it so that two spools of thread could be secured on this page. The little red pocket holds a vintage needle threader. In my younger days I never used a needle threader but they are a great notion for aging eyes.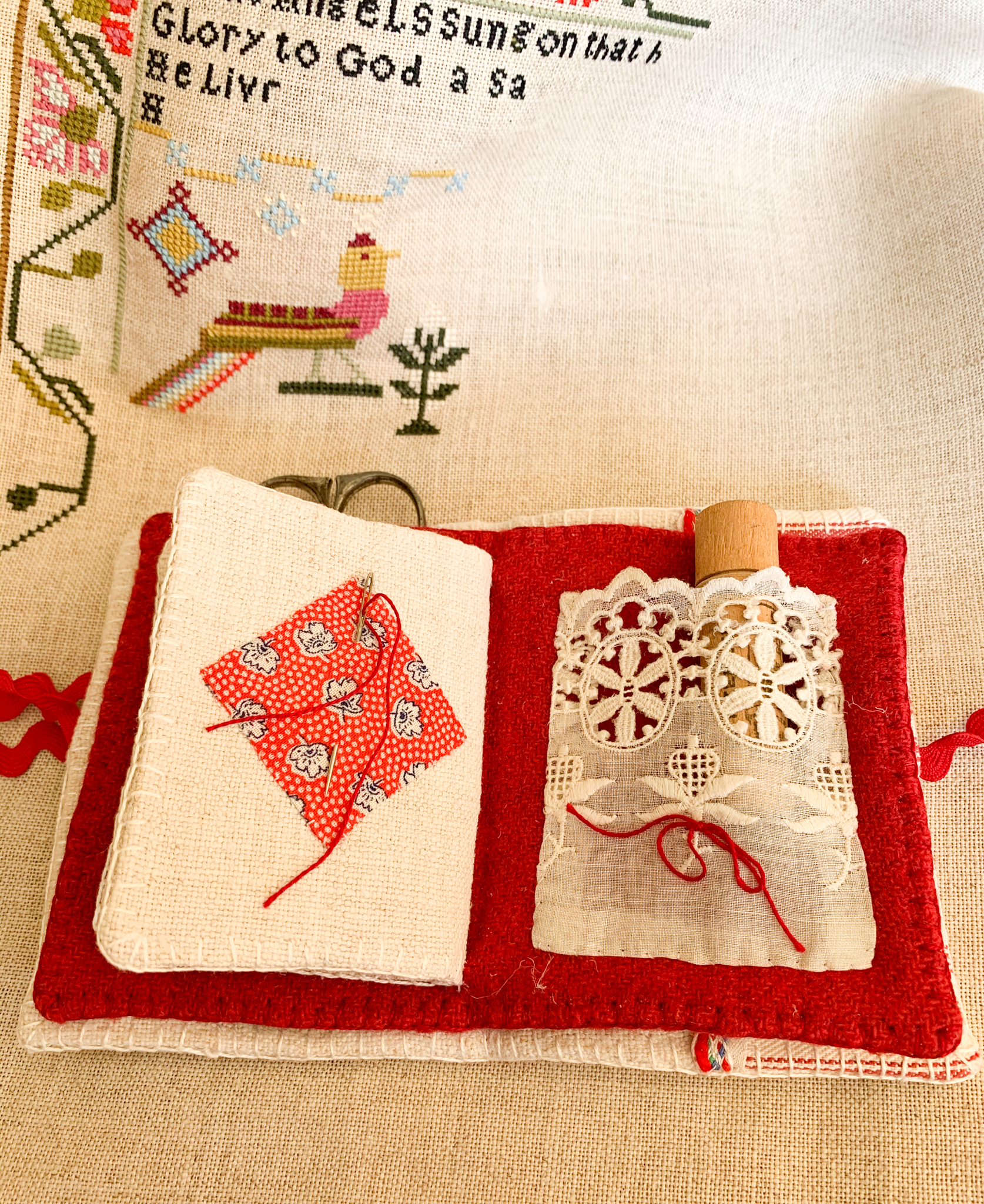 The small patch on the left is from a flour sack that my grandmother got in the 1930's. Can you believe flour and sugar came in beautiful cloth bags? My grandmothers repurposed the flour sacks into children's clothing, blouses and quilts. The eyelet pocket is fashioned from a wide vintage eyelet piece that would have been sewn to a petticoat. I added a tiny red bow of pearl cotton. This pocket could hold a thimble, however for the photograph I added an antique wooden needle case.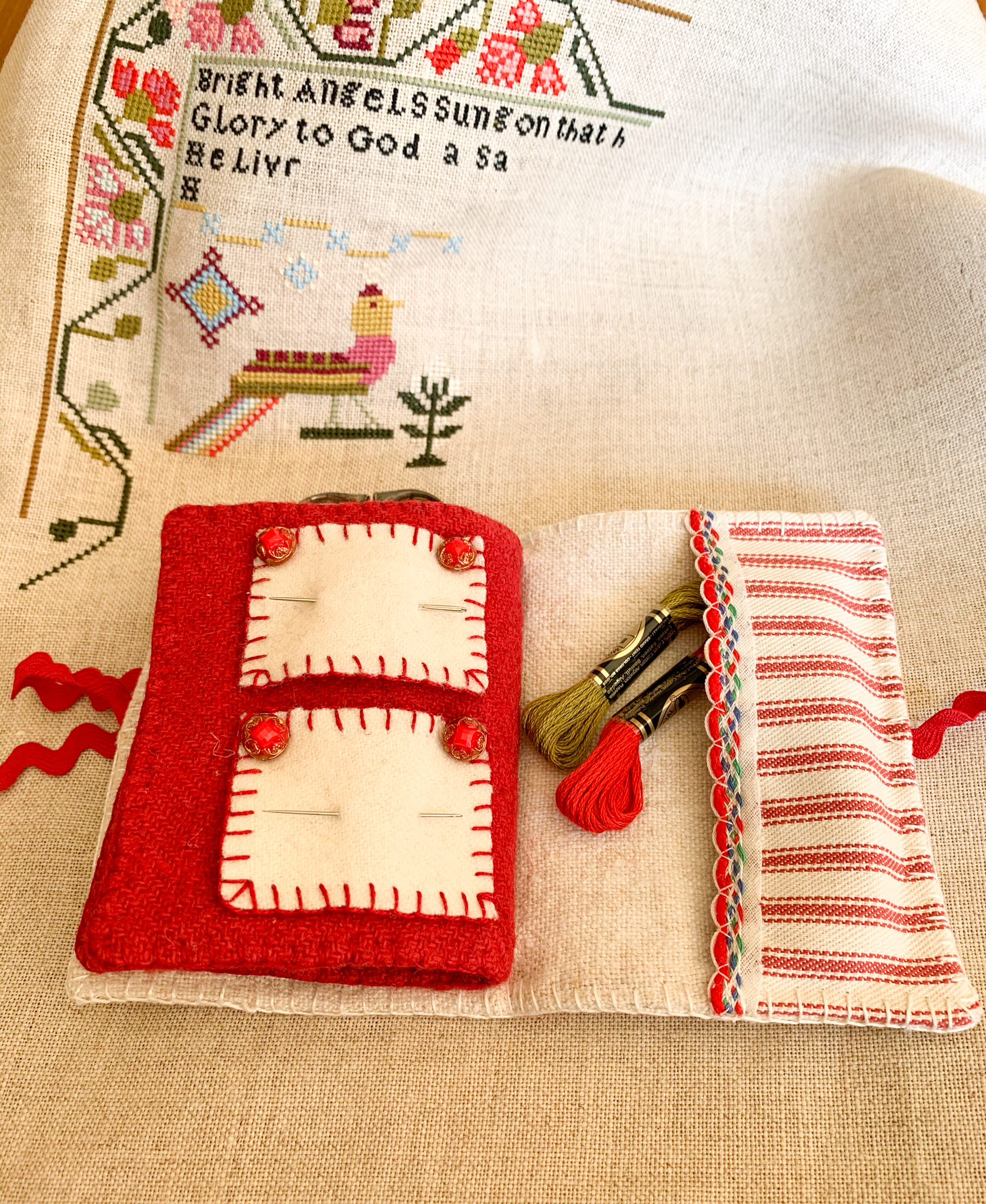 I like using wool for places to secure needles as the loose weave allows various gauge needles to be easily inserted. Two tiny wool flaps are secured with antique Czech glass buttons. I created a large pocket with ticking and edged it with the same trim as I used on the scissors holder. The pocket is large enough to hold several skeins of floss.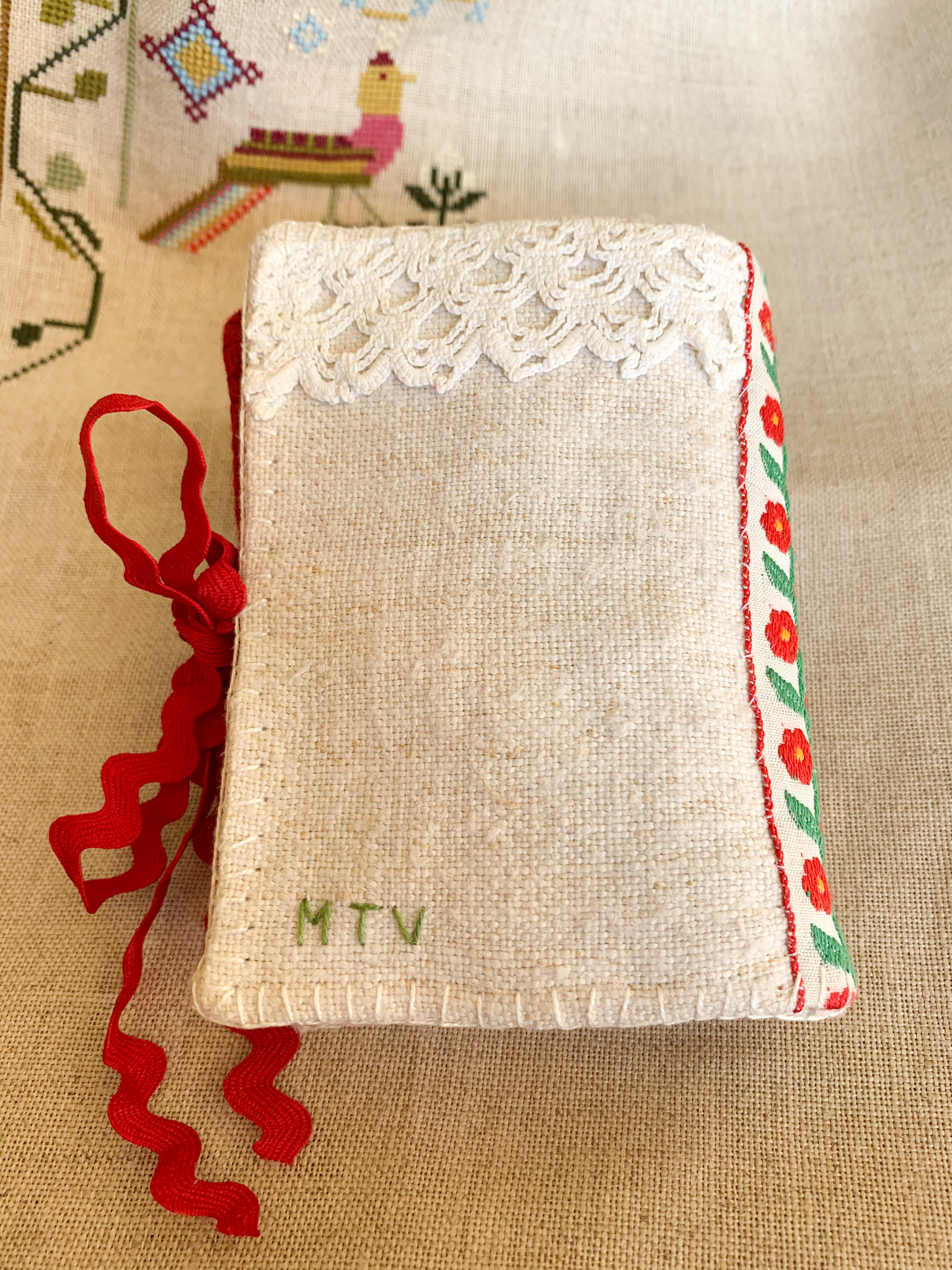 I like to think my designs are art so I always add my initials. Who knows maybe one hundred years from now, someone will ask, "I wonder who MTV was and what was the story of this little needle keeper?
This is the needle book I designed for my Instagram give-away and Tanya from Ever After Cottage was the winner. Many of you have asked if you could purchase one and I am going to provide that opportunity very soon. I am creating a little Sewing Room Shop for an Instagram Sale in which there will be a variety of hand-made sewing items and vintage sewing notions and linens. I will use social media and my blog to let you know the day and time of the sale. If you want to order a needle book similar to Marian's or this one leave a comment on the blog and I will contact you. For those of you who want to try your hand at making one, I will be posting the tutorial next week for you to make your own.