As you are reading the title of this blog post, I can certainly hear many of you asking, "Why would she go antiquing when she is supposed to be following the mandate of staying home?" Don't worry, today is the fourteenth day of staying home for me. Just like all of you, I have struggled this last week with finding a rhythm and order to this new life we are all living. Unfortunately my kids are grown so I don't have the obligation many of you do now to provide the academic support distance learning requires. The schedule and order of my life changed instantly with a decree from our Governor. The things I planned to share with you all seemed wrong or inappropriate. As I was having my coffee this morning, I told myself today was going to be a "normal" Friday on Trout Lily Hill. Despite the fact that I wasn't going anywhere I opted to get out of my pj's early and shower and dress like it was a normal day. Friday is my usual day to run errands and then check out some antique stores or thrift shops. My errands consisted of an Amazon order and then I shopped my house for a few recent vintage finds I could share with you. Since so many of us are worried about finances, I selected items that were all under $5.00 each to show you that beauty and good decor doesn't have to be expensive.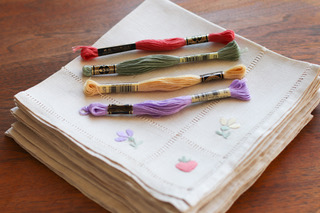 I am always on the lookout for pieces I can use to add interest to a party table or to use in some sort of practical way for entertaining or decor. Linens are something I always manage to pick up and are reasonably priced. There is nothing like setting a table and using a large linen napkin with beautiful hand done embroidery or tatted or crocheted edgings. I found this set of eight linen napkins mixed in a basket of unfinished embroidery projects. The napkins were never used and the embroidery wasn't complete but I knew I could embroider the small flowers to coordinate with the delicate flowers on my Noritake China in the Brookhollow pattern. This was the pattern I selected when I got married because the flowers reminded me of the forest floor on Trout Lily Hill. A few simple embroidery stitches and I had truly lovely napkins to use for a party. Score, great find for the investment of $2.00 and a little time.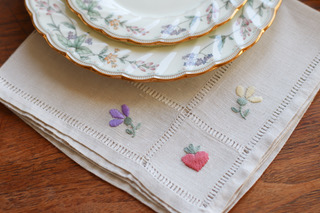 Damask napkins are also great finds. Damask fabric is reversible because the design is woven into the fabric rather than printed on the it. The design of the fabric is created by combining two different weaving techniques.  The actual design is woven using a satin weave and the background is made by using a plain or sateen weave. This set of napkins was never used and is a wonderful ivory color. The woven floral design in the fabric is subtle and makes the napkin one that is very versatile and can be used with both casual and elegant dinnerware. The smaller size of this set of napkins, makes them perfect for a lunch or dessert and coffee.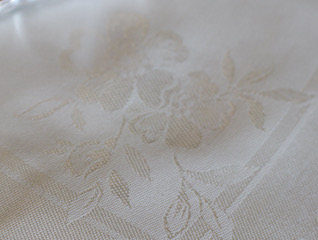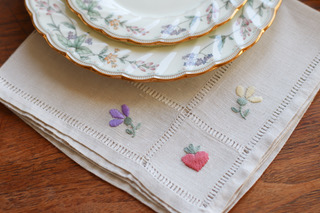 Silver-plate serving pieces are always on my list. I love the patterns that have embossed flowers, leaves, fruits and acorns on the handles. Berry spoons make great serving spoons on a buffet or a sit down dinner party. I found this great gravy ladle with acorns and oak leaves. In addition to the handle embellishments, I love the additional details in the bowl of the ladle.
On this haul I found a variety of ladles, this beauty with the heavily embossed flowers and this smaller sauce ladle, that is actual sterling silver.  The petite flowers on the handle have such intricate detail, it works well in a smaller sauce dish or creamer.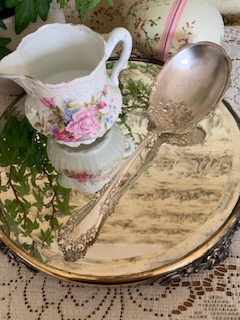 The large berry spoon would work well for scooping mash potatoes on to a plate or serving potato salad on a summer buffet table. This lovely meat fork would be perfect for serving those perfectly carved slices of turkey or ham and can also add the charm to a plate of mixed meats and cheeses on a cold buffet table.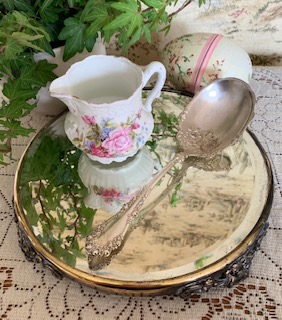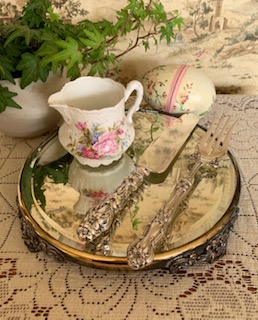 This cake knife/server could be used for serving birthday cake or would make a unique shower gift for the bride to be. I would take a vintage one into a local jeweler and have the couples names and wedding date engraved on the blade, making a vintage find become an instant heirloom. When I got married, my great-aunt gave me her cake server and I had my florist use it as the handle on my bridal bouquet. My quivering, sweaty hands had a cool piece of silver to grasp as I walked down the aisle that day trying ever so hard not to cry and ruin my make-up. When my daughter gets married I hope it is a tradition she will embrace.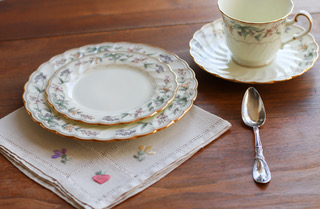 On a stroll through my house I found that Friday finds can still be a part of social distancing.