Planners and agendas have been a part of my life for a long time. As a teacher, I prepared numerous year long course descriptions that outlined for students the topics and timeframe that would be covered in each science class. From that skeletal overview, each week lesson plans were constructed to provide daily directions, materials and yes even the exact amount of time I needed to allocate to a particular activity. Fast forward a few years and soon a busy family schedule also became an additional part of my weekly planning. School drop offs and pick ups, dance lessons, athletic practices, play rehearsals, scouts required a master schedule that looked often like the logistics plan of a large company. It seemed I always new exactly what was going to happen and in exactly what order each day would role out. Being somewhat of a control freak this was perfect for me!
Having lots of extra and unstructured time on my hands as a result of the state mandated stay at home directive I have been trying to devote some time each week to rearranging closets and drawers. As I was organizing a linen closet, I came across this pile of vintage flour sack dish towels that a woman of a different generation had carefully embellished with tiny and delicate embroidery stitches. Perhaps this was a stitching task she had done as she anticipated her upcoming wedding date and the start of a life caring for her own home. Reflecting back on memories from my youth, I remember the rigid agendas both my mom and grandmother used to keep their households running smoothly. Their schedules and plans were almost identical to the tasks that each towel suggests, in fact as a child I remember thinking how strange it was that some women needed reminders of what day of the week it was by an embroidered reminder hanging over the handle of the oven door. The answer to that question can be found in an old English Nursery Rhyme, brought to America by the women who came over on the Mayflower. The ship landed at Plymouth Rock on Monday, November 13, 1620 and the women needed to do the laundry. 
Mondays were always wash days. The beds were all stripped and huge piles of sorted laundry were heaped on the basement floor, usually first sorted by color, darks, lights and white but then further sub-divided into smaller heaps … sheets, socks and underwear, darks, diapers, blouses and shirts. Other than stripping the beds and collecting stray socks and clothing my mom had the luxury of a laundry shoot that had a small door on each floor for dirty laundry to replaced in and directed to the basement. Growing up in a family of nine, my brothers also thought this efficient laundry delivery system had an alternative purpose for distributing toys, balls and other objects between floors. There was always one additional pile next to the laundry for stray objects.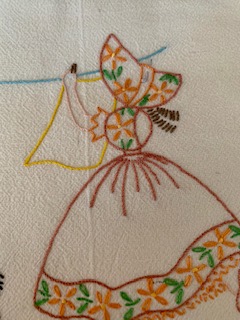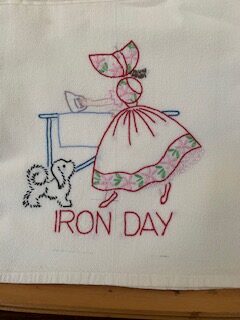 Back in those days, everything needed to be ironed so it was only logical that Tuesdays would be allocated to ironing. Sometimes the clothes were slightly damp after they were removed from the clothes line and that made them easier to iron and prevented the step of sprinkling the item with water and then rolling it up and putting it in a plastic bag to iron after it was thoroughly dampened. My sibs and I went to a private school, so there were always an excessive amount of white blouses and blue button down color shirts to be ironed each week. My mom was thrilled when she got her first steam iron because it took away the step of needing the clothes to be damp. I never ironed blouses or shirts but as soon as I was tall enough to handle the ironing board, I was assigned things like pillow cases, dish towels and napkins. Perhaps that is why I still love to iron cloth napkins.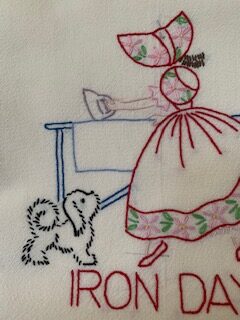 Wednesdays were a traditional baking day, perhaps because anything that was baked on the weekend was already consumed or lack of things like microwaves and quick cook appliances general meal prep took longer so baking needed to be allocated to a special day. As I was the oldest some of the baking tasks were assigned to me. Each week I would bake a "Lazy Daisy Cake" (a white cake made from scratch with a broiled coconut frosting), a "Date Chocolate Chip Cake", Chocolate Chip Cookies and a batch of "Peanut Butter Cookies".  I made these items so often< I had the recipes memorized. Writing this reminded me that I should track down the cake recipes and share them with you as these days it seems like all of us are more into baking.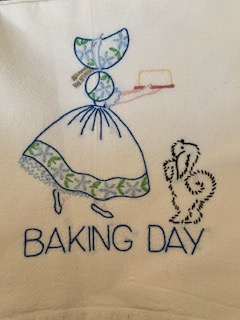 Mending and sewing were a part of each week's schedule. My mom was continually patching the knees of pants for my brothers. Jeans with holes in were not a fashion statement in the 60's or 70"s. It seemed like each time my mom sent my brothers to school with a new pair of pants, they proceeded to come home with a hole in the knee from an innocent game played during recess. Oh yes there were also socks to darn and long sleeve shirts to repurpose into short sleeve shirts for warmer temperatures. My mom was horrified when one of my brothers wore a shirt to school that was clean but waiting to have the sleeves hemmed. Back then I guess she may have thought the teachers might think she was not a neglectful mother.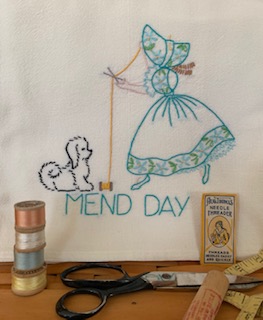 On Friday was the big trip to the grocery store. With such a large family someone always had to go along that could push the second cart to load up on the weekly necessities. My mom did a lot of canning and freezing of fruits and vegetables as well as purchasing a half of a cow and pig to have butchered for the freezer but even with those things in the house she always seemed to have two carts. Grocery shopping was never a favorite domestic task of mine, it just seemed so time consuming …cruising the aisles throwing items in a cart … unloading the items from the cart … unto the checkout counter … loading the bags into the cart … putting the bags into the van …unloading the bags at home and then finally putting the items away at home, way too many steps for me! A positive thing that I have experienced in the midst of this social distancing and trying to remain safe is that I used Instacart for groceries last week and it was heavenly! I would rather spend my Friday shopping time looking for vintage finds than groceries. Using Instacart will be a permanent thing for me to do after social distancing ends..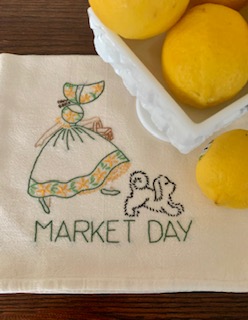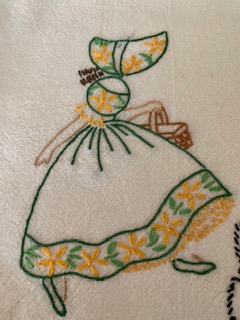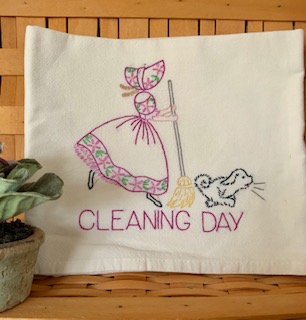 My schedule and life has been interrupted and changed by a small particle I can't even see but  it is human nature to want a rhythm and a schedule to make me feel normal. So as I struggle to find that normal perhaps I can use this basic agenda that once hung on an oven door handle to provide some simple suggestions and remind myself in the not so distance future "Visiting Day" will one day be in person and not just allocated to a computer screen.